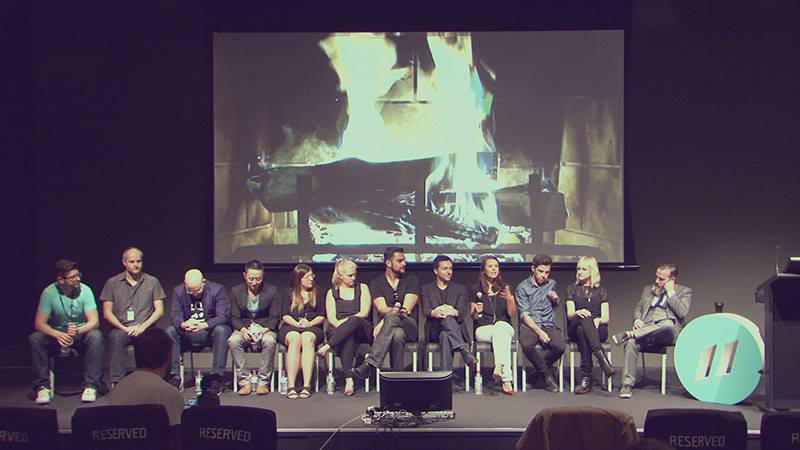 What tips for creativity can we learn from 5 industry leaders?
In our very first public group brainstorming workshop, GroupMap joined the Pause Fest-Digital Festival during
Innovation Month
and had the opportunity to talk to industry leaders about what fuels their creative engine. From the head of the festival, to motion music masters and animation artists, we've asked them to contribute to our online brainstorming exercise.
Our question- What top creativity tips do you use?
Here's what each of the industry leaders had to say.
George Hedon – PauseFest Digital Festival
When he's not accused of being too photogenic on camera, George and his awesome festival crew run the digital festival in and out of Australia. Here's what he had to say…
Surround yourself with talented people Being around other creative people helps you realize new ways to be creative. They challenge you with good insight or critique.
Curate interesting things Collecting interesting or new items can give you something to reflect on and "admire". This can help some people clear their heads or spark new ideas.
Combine different things together Mixing and matching things that don't usually go together can help to realise a totally new idea. If something isn't working for you, try combining it with something else and see where it goes. (hmm… we wondered where kite surfing came from)
Robyn Fawcett – Shock records
Robyn is the Digital Marketing Manager for Shock Records in Melbourne. Pablo is the co-founder of the creative agency 'Plenty'. They both sat down for a post-lunch chat to tell us their top creative tips.
Research your audience It may sound contradictory, but a little research effort goes a long way to focus your message. Creativity doesn't have to be coming up with a wild idea no one understands, it just has to be one your audience does.
Fake it till you make it Trick your brain into believing you already have all the answers. If you can act or pretend to be creative, then perhaps the subconscious brain will follow suit.
Tap into a dream state Relaxing or dozing off can help to ease some stress from your mind and open it to new ideas. Be prepared for a little active dreaming.
Pablo Alfieri from 'Plenty
PLAY and Brainstorm Make it okay to play, then brainstorm and map your ideas visually to help bring order to chaos. Seeing what you've been thinking can help you create new branches from existing ideas.
Set time limits and give yourself time. Some people work better when faced with a deadline. Putting a time limit on yourself can force you to get down to business and get the ideas going. Create both time and a timeline for creativity.
Meet people and work together. If you ask Pablo, he'll say that he enjoys being with people. It gives him energy and it helps to create energy and inspiration. It fuels the time for self-reflection and private creativity.
Foo Ching Sung from Squint/Opera
Foo Ching Sung – or 'Fooch' as he is better known – heads up Squint/Opera's Australian division, focusing on architectural films.
Teach/Give knowledge back Sharing what you know can open the door to a whole new set of thoughts and ideas. By mentoring others you reinforce that knowledge in yourself, while helping others. That's a win-win win!
Steal ideas Using other people's work as inspiration can stimulate your own creativity. By observing other people's creativity, you can emulate them and create your own unique ideas.
Look back Pull out that old notebook, those high school sketches, or dust off a previous prototype. There might just be a treasure trove from a snippet of the past. What may not have inspired you then can quite possibly do so now!
Chris Vik – Ethno Tekh
Chris is one half of the talented duo "Ethno Tekh". They blend music and movement capture technology together seamlessly to create an amazing visual performance.
Collaboration It's not just about blending music and tech. It's about working with other artists and cranial mind masters to find new projects.
Try new things Keep an open mind by actively fueling it. What was your last venture into the unknown?
Change of scenery Sometimes creativity can be blocked by your environment. Taking a walk or moving to a different room can help to refresh yourself and get your thoughts going again. Don't believe it? Try it.
And finally a few parting phrases from Mark Simpson MC and head honcho of design and animation house
Sixty40
–
criticise yourself constructively, persevere, and work hard!
The GroupMap team wants to give a great big thank you to all our fantastic interviewees as well as the bunch of brilliant minds that contributed to our tips for creativity GroupMap. From the GroupMap Team. Want to create your own brainstorm with your team? GroupMap lets you create brainstorming templates to innovate, create, ideate and prioritise. trial it free at
www.groupmap.com
[/vc_column][/vc_row]