GroupMap is a digital facilitation tool that creates collaborative, interactive workshops
We support industry best practice group facilitation techniques with templates that you can customize.
Easily create activities to suit your workshop activities and set the rules of engagement. Access a wide range of features that boost your facilitation toolbox and drive decision quality. Capture and share ideas, comments, votes, scores, images and files to create rich dialogue and drive evidence-based decisions.
GroupMap gives everyone a visual space to share and prioritise ideas in a safe and secure environment, face to face or online. Real-time results gives everyone more time to focus on meaningful conversations.
Get ready to think better together.
Want to create engaging workshops with impact? Here's a little inspiration
Start from one of our 60+ templates or create your own that you can rinse and repeat. From design thinking and creative problem solving through to strategic planning or community consultation, GroupMap gives you the workshop tools to more effectively facilitate amazing conversations!
Ideas and solutions brainstorming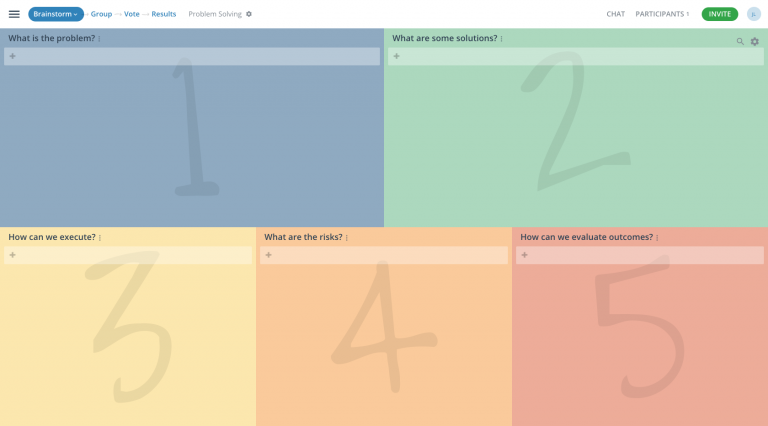 Judgement free, next level brainstorming without the bias
When you need the most creative ideas, honest answers or innovative solutions, GroupMap lets you create anonymous brainstorming sessions. Individual (or silent) brainstorming means that everyone can add their ideas and concepts without being influenced by others, including the boss! Share inspirations, pictures, hand-drawn images or notes without fear, production blocks or bias.
Design thinking and innovation workshops
Business planning and strategy
Community and group consultation
Conference breakout sessions
Audience polling and Q&A
Professional development and training
GroupMap… Powering collaboration and brainstorming around the world
Ease of use, and the opportunity to use [GroupMap] asynchronously over a longer period of time – so people could either contribute during a teleconference or in the week after if they couldn't make it – were benefits we all appreciated from using GroupMap for our online brainstorming.
The best feedback I heard was from a group of 35 consultants who ended up using a GroupMap Open Space as a substitute for a personal meeting during the COVID-19 pandemic. They had doubts that a virtual open space would work. In the end, they came out with better and more results than in any physical meeting before.
GroupMap literally salvaged our virtual executive global event. We would not have been able to have our workshop nor accomplished as much without this tool.
Other tools don't provide the same level of interaction as GroupMap. It has a clear and concise process, from brainstorming to rating of opinions and ideas and finally the results. This is extremely useful with my groups. This type of interaction hasn't been replicated by any of the other tools that I have used.
Because GroupMap is a more democratic method, the quieter, shy members enjoyed contributing just as freely as anyone else… We now have a way for everyone to come together and share ideas, from the CEO to the new hire...
GroupMap was very well-received and the planning committees really enjoyed the sleek, modern, colorful look to them.
We found people were energised throughout the day... What a privilege to recommend GroupMap as a collaborative technological enabler for larger group brainstorming forums and collective learning workshops.
Impressive, useful and highly recommended.
Specifically built to make team activities easy, providing a unique platform for anyone to respond on a map, with any parameters you set.
There is so much you can learn from collaborative input. It's user friendly, effective and stats are only one button away. Ingenious.
I really enjoyed this planning session and I think GroupMap provides an excellent platform for everyone to have their input and still keep the process efficient.
We really enjoyed using GroupMap to do an ideation workshop for 200 people. It was great to get real time ideas, and also lessen the time to act on them. (leadership was amazed that I wasn't going to have to spend days entering post-its!)
GroupMap has allowed us to get the best team outcomes from our strategy bootcamps as the voice of each team member gets heard.
An innovative tool that allows real-time collaborative brainstorming and decision making.
Our brainstorming sessions are much more efficient allowing us to spend more time on the group perspective. We love that we don't need to write up whiteboard notes and post it notes after the session which saves us a lot of time.
I've used GroupMap in a virtual brainstorm session with 5 participants at 2 different locations lasting 90 minutes. Participants were instantly comfortable using the system and it performed consistently well. They actually enjoyed it and wanted to add ideas.
I used GroupMap at a dairy leaders summit in Melbourne yesterday to identify BIG ideas for participants to implement across 4 topics. Went really well with good discussion and quick reporting - a saviour as we had a 'non-negotiable' deadline to work toward.
It's a great alternative to the omni-present flipchart paper that can often bring groans of 'you're making us work' when they're rolled out in a workshop.
I enjoyed using GroupMap for our discussion session during the Xchange event. We got great responses and we learned a lot more about what event professionals are facing - and how we can better help them!
A visual, organised way for people to make decisions collaboratively.
We recently ran an interprofessional workshop utilising GroupMap. This is a fabulous tool which captured data in real time in eye-catching ways. We love the GroupMap program, it is definitely a great time-saving tool which we will use regularly at our training events. Creating and modifying maps will cut our reporting time and drill down what is most relevant to participants needs.
We have used GroupMap to replace parts of our scenario planning workshops to get things done without travelling. This is not only true for internal projects, but also for projects with clients from all over the world. The interface is easy to use and highly responsive. We estimate a 20% saving in costs and our clients find it easy and effective to use.
The collected data is worth gold!
Being able to outline the objectives for each workshop step within GroupMap templates made this easier. Group Map is also fairly intuitive and simple to follow for most users.
GroupMap literally salvaged our virtual executive global event. We would not have been able to have our workshop nor accomplished as much without this tool.
Other tools don't provide the same level of interaction as GroupMap. It has a clear and concise process, from brainstorming to rating of opinions and ideas and finally the results. This is extremely useful with my groups. This type of interaction hasn't been replicated by any of the other tools that I have used.
Easy, fun, creative... Enabled over 30 people with diverse views to share their opinions, collaborate and find time, ideas and thinking. Very exciting.
GroupMap offered over 80 easy to use customisable templates and the ability to set up a workspace for each of our businesses.
Five years later and after comparison to many, many others, GroupMap remains my favorite for most educational workshops.
Better brainstorming and group decision making
Seriously good facilitation
Effectively communicate key objectives and processes of your workshop with an instant tool kit of customisable visual templates.
Foster more meaningful conversations with a range of brainstorming styles, prioritisation techniques and audience engagement tools.
Save everyone time and money by reducing waste, improving decision quality and creating efficient workflows.
Giving everyone a voice and for ideas to be shared without bias and for the collective wisdom of the crowd to become visible.
People feel heard, engaged and empowered whether they are in the same room or around the world.
Fast, reliable cross-browser and cross-device capability with nothing to download means that people can get started easily.
Accountable workshop outcomes
Enrich the conversations by capturing ideas from simple sentences to fully detailed concepts with images, descriptions links and categories.
Create an action-oriented workshop – add actions against ideas to move people forward.
Easily demonstrate workshop outcomes with tailored, exportable reporting from the whole session to a single idea.
Features designed for classrooms
Capture drawings, pictures, links and documents
Snap a picture of that incredible prototype or creative butchers paper output and encourage greater sharing, collaboration and creativity. Don't let great ideas go to waste!
Group ideas to synthesize thinking for discussion
Find common themes and groupings for ideas. Discuss, synthesize and pull all similar ideas into a group. Decide between facilitator only or audience based grouping.
Prioritize ideas effectively and efficiently
From simple dot voting or a thumbs up/thumbs down vote to multi-variable weighted scoring, you see results instantly in order to build group consensus and know where to focus your time and energy.
Poll or survey your audience
There is no need to switch tools or applications. Capture a quick thought, run a check in / check out, poll the audience or evaluate your session.  Get even more engagement and insights easily.
Save buckets of time with dynamic, exportable reporting
Download an image or PDF for an activity in just a click or customise the data you want for your reports and export it to Excel or CSV. Drill down to individual ideas or participant for a full detailed report or look across a range of ideas to see how they were evaluated and ranked.
Control the tech and focus the conversation
We believe that conversations and connections are key. GroupMap lets you lock the map, hide views or prevent further changes allowing you to "turn off the tech" and turn on the talk. When you are ready, bring everyone back to capture highlights. You can even use directed brainstorming to create a central capture point.
A safe space for everyone to share ideas
Trusted by banks, governments and universities through to professional facilitators, GroupMap uses 256-bit TLS security and meets GDPR And privacy laws to keep you, your data and your participants safe.
Manage bias and group think
Make ideas anonymous to encourage more honest or creative responses. Use individual brainstorming mode to manage social loafing and anchoring. All our voting and rating stages are done independently before results are revealed so that they are free from influence.
Create action items linked to ideas
One of the biggest complaints from workshop attendees is feeling like there were no take away actions. GroupMap has an optional action step that allows you to capture key action points against ideas that can be assigned a target date and owner. Export and share the report or take action items into a new map for further discussion.  
See GroupMap in action for these workshops
We've done the hard work so you can sleep well at night
No need to download and install or create accounts. Works across browsers and devices.
Add your logo and a customised landing page to GroupMap.
Great for concurrent sessions or just for an extra pair of hands.
We've have run workshops from 30 to 1,100 people. We can help design, support and co-facilitate.
Synchronous or asynchronous
Open up the process flow or manage participants through stages. The choice is yours.
Augment your video conferences and other online meeting tools like Skype, Zoom or Webex. GroupMap's range of features makes it the chosen digital facilitation tool used by professional facilitators, consultants and workshop organizers from around the world.