Facilitate with confidence and ease.
GroupMap gives you a simple, yet powerful tool to
Design, Discover and Deliver meetings, workshops and training sessions that help people think better together.
DESIGN


Templates and processes to focus the conversation.
Choose a template and style or create your own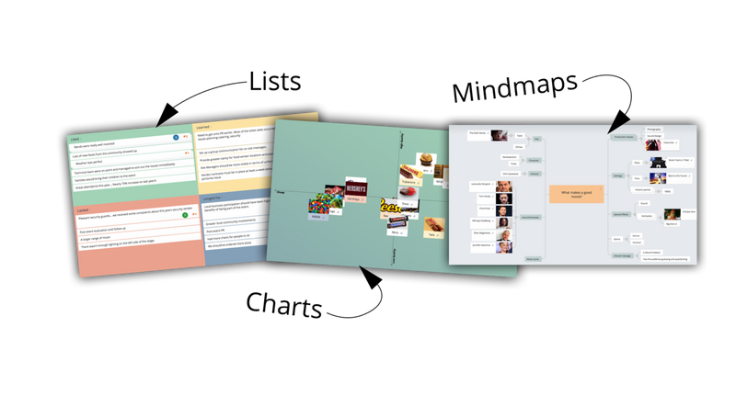 Start the way you want! 
Choose from more than 80 templates for a quick start, or customise and save them for future use.
Create the workspace you need!
From a simple blank wall of sticky notes and straightforward lists, to deep dives with multiple maps that support a myriad of activities. GroupMap's templates let you build the stage you need to engage, focus, guide and inspire your team.
Follow a format or curate your own process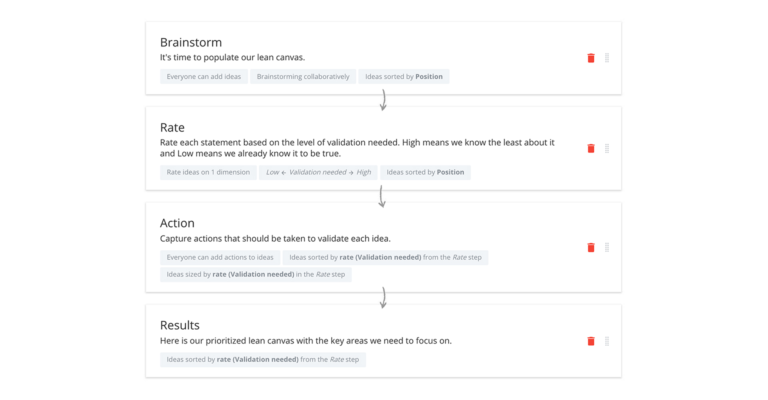 Define the flow of your meeting with a structure that works with you.
Select, customise and order the steps you need to cater for your specific audience and purpose.
Gauge and guide meeting progression with feedback tools such as simple dot voting, thumbs up/down through to multi-variate weighted scoring of ideas.
Create a safe space for ideas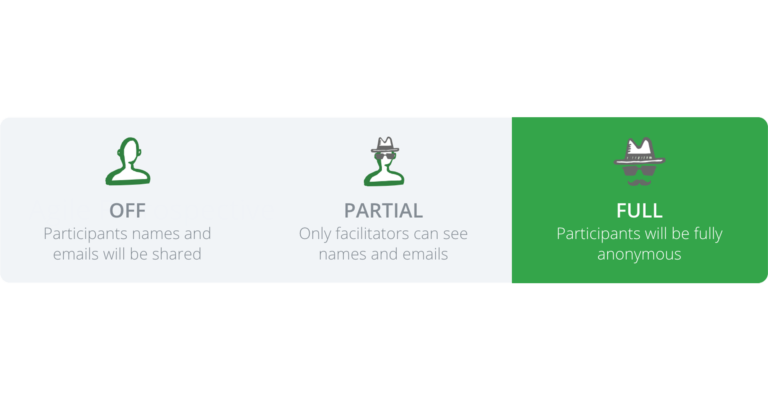 Create a tone that is right for the occasion by managing participant anonymity.
Create an open and collaborative environment by showing names to everyone. Or make ideas and comments fully anonymous to maximise participation and honesty. Partial anonymity can remove peer pressure while still letting the facilitator manage conversation flow.
Categorise ideas with tags and select fields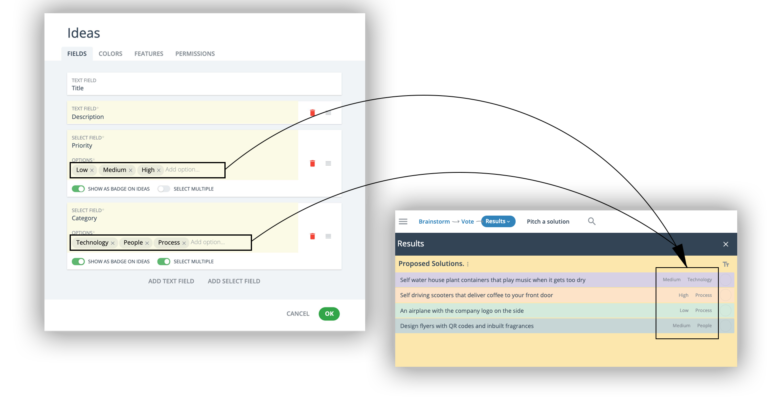 Manage ideas to shape conversations and help thoughts evolve.
Theme or tag your ideas to help consolidate and make sense of the data. You can filter these results to focus the conversation.
Add a colour legend to give meaning to ideas.
Change permissions and prevent edit wars by stopping people from editing or moving ideas from others.
Showcase your style with custom backgrounds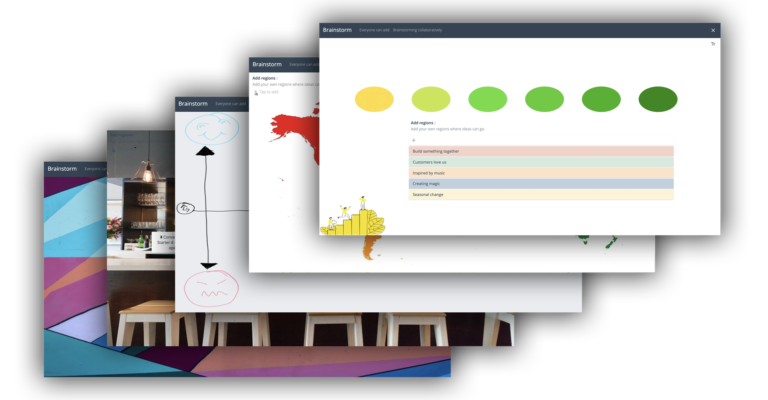 Unleash your own creative backgrounds or images to inject novelty, energy or context to your session. Define how ideas appear (free form sticky notes, ordered sticky notes or lists).
Create polls and surveys to engage everyone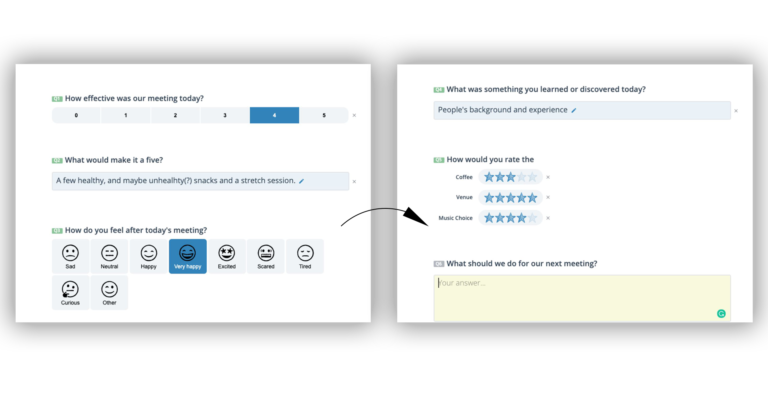 Quickly and easily check in with the group.
GroupMap's range of question types (free text, images, emoticons, star rating and sliders) allows you to swiftly gauge the mood of the room to inform next steps.
Poll and survey people at any time without having sign into another app.

DISCOVER
What everyone thinks in real time, free from
fear or bias in a simple, safe way.
Manage invitations and participant roles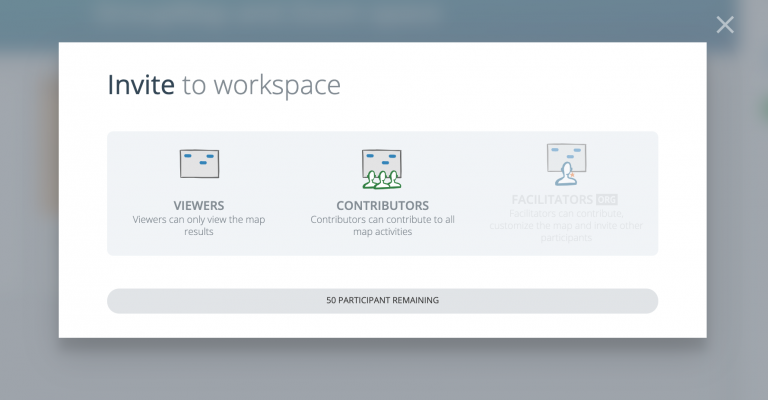 Invite people securely by secure code, link or email. Have people view-only as you capture ideas, or invite them to contribute ideas and comments.  GroupMap's event and enterprise plans allow for multiple facilitators in a map or workspace.
Brainstorm how and where you wish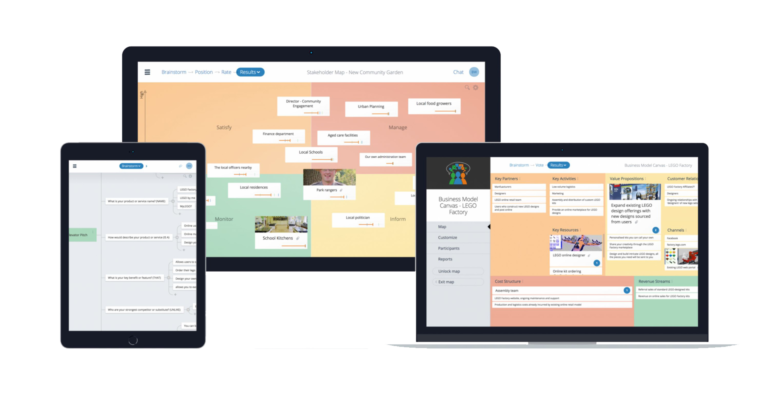 Give people space to think, free from distraction, and add their ideas with individual brainstorming. Use collaboratively brainstorming for ideas to be shared in real-time. No downloads makes getting started easy.
Build on ideas with images, files, links and GIF's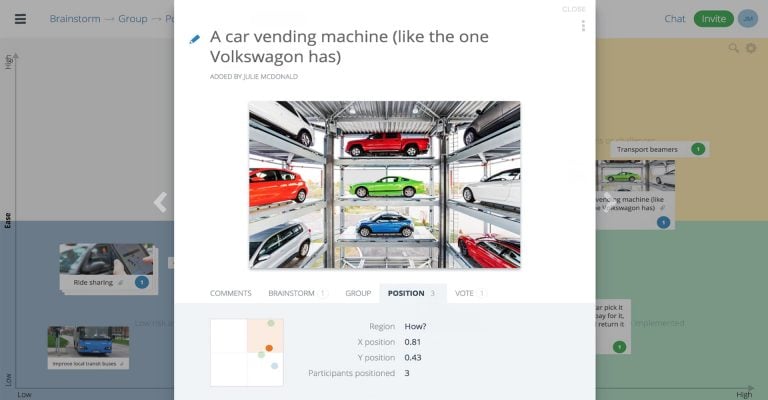 Level up ideas with images, links, files and gifs that add depth and meaning. The idea carousel allows you to present and capture new thoughts as you go.
Prioritise ideas by votes, rates, scores or position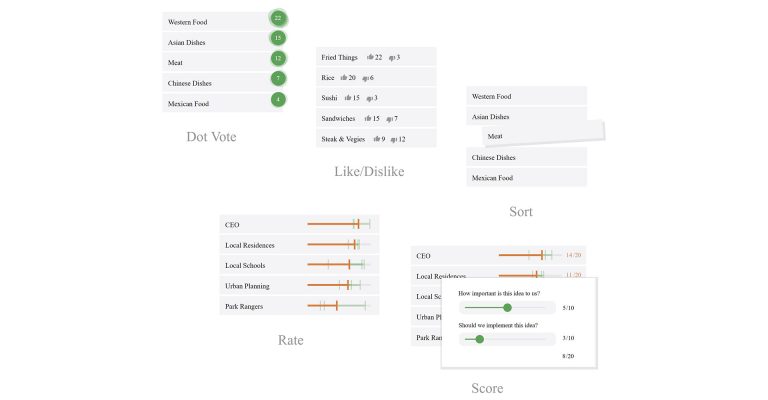 Combine a range of techniques and tools to assess and prioritize ideas that inform decisions and outcomes. GroupMap helps you deliver a demonstrably transparent decision-making process. All evidence is in clear view with both individual and group results informing the best way forward.
Explore differences and build consensus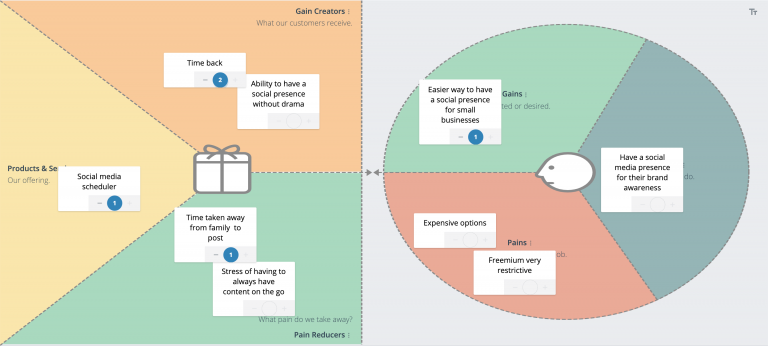 Individual positioning, rating and dot voting offers unbiased data to reflect the thinking of the group. Facilitators easily see if participants' thoughts are aligned, or if different perspective require exploration.
DELIVER


Insights, feedback and results without manual collation and re-writing sticky notes.
Generate results in real-time that drive better decisions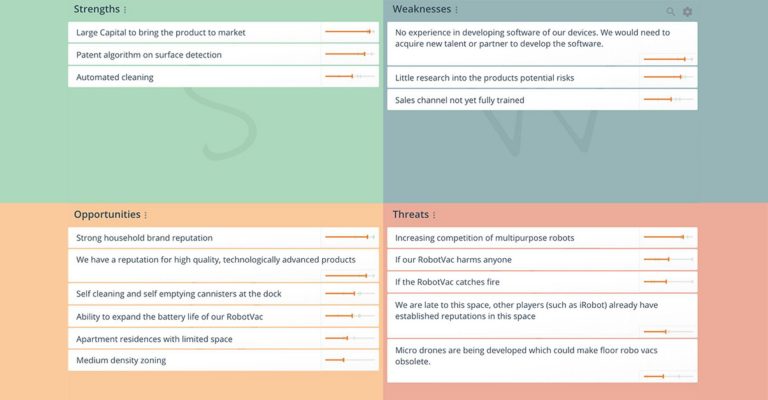 Inputs from the group (shown by individual position, rate and dot vote) reflect its true position regarding each idea in real time.
Generate word clouds of your results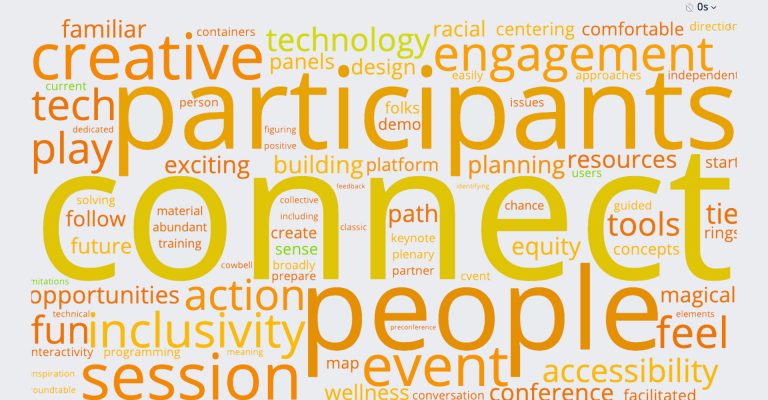 Create a word cloud (based on the whole map, topic or
category) with a single click to highlight words with
greater prominence for simple, quick and impactful
feedback. Download as an image.
Customise and export reports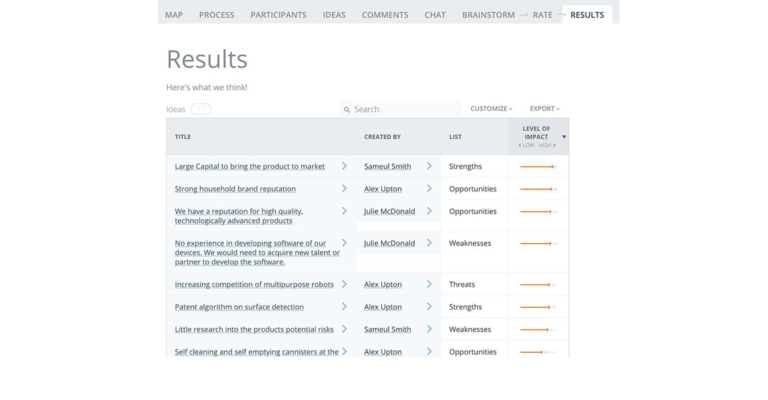 Filter and customize columns. Export reports (PDF, CSV, Excel) , then export them without the need for manual collation.
The consistent feedback we receive is that people appreciate that GroupMap is user-friendly, and they really like the ability to collaborate and document in real-time.
We hear from folks that people appreciate seeing the bigger picture when we show group learning and aggregated themes / outliers and an ability to interact with each other's posts through comments and likes.
GroupMap supported our business success in the 2020 shift. As a result, our clients continue to experience success and high levels of engagement, despite working remotely. We've heard from multiple clients that the meetings we use this tool in, 'are the most productive online meetings this team has ever had.'
Other tools don't provide the same level of interaction as GroupMap. It has a clear and concise process, from brainstorming to rating of opinions and ideas and finally the results. This type of interaction hasn't been replicated by any of the other tools that I have used.
GroupMap literally salvaged our virtual executive global event. We would not have been able to have our workshop nor accomplished as much without this tool.
The best feedback I heard was from a group of 35 consultants who ended up using a GroupMap Open Space as a substitute for a personal meeting during the COVID-19 pandemic. They had doubts that a virtual open space would work. In the end, they came out with better and more results than in any physical meeting before.
I have to say what an excellent job you did on this software. I detest learning new software - simply hate it. Yours is so user-friendly and so intuitive. I was at an (online) conference where people gave an unsolicited testimonial on how intuitive and impressively designed GroupMap is.
Ease of use, and the opportunity to use [Groupmap] asynchronously over a longer period of time – so people could either contribute during a teleconference or in the week after if they couldn't make it – were benefits we all appreciated from using GroupMap for our online brainstorming.
Unique solution, thoughtfully constructed templates support true collaboration and provocative analysis. Fun to play with, inviting attributes make for good workability. A great and versatile analysis and discussion tool.
We really enjoyed using GroupMap to do an ideation workshop for 200 people. It was great to get real time ideas, and also lessen the time to act on them. (leadership was amazed that I wasn't going to have to spend days entering post-its!)