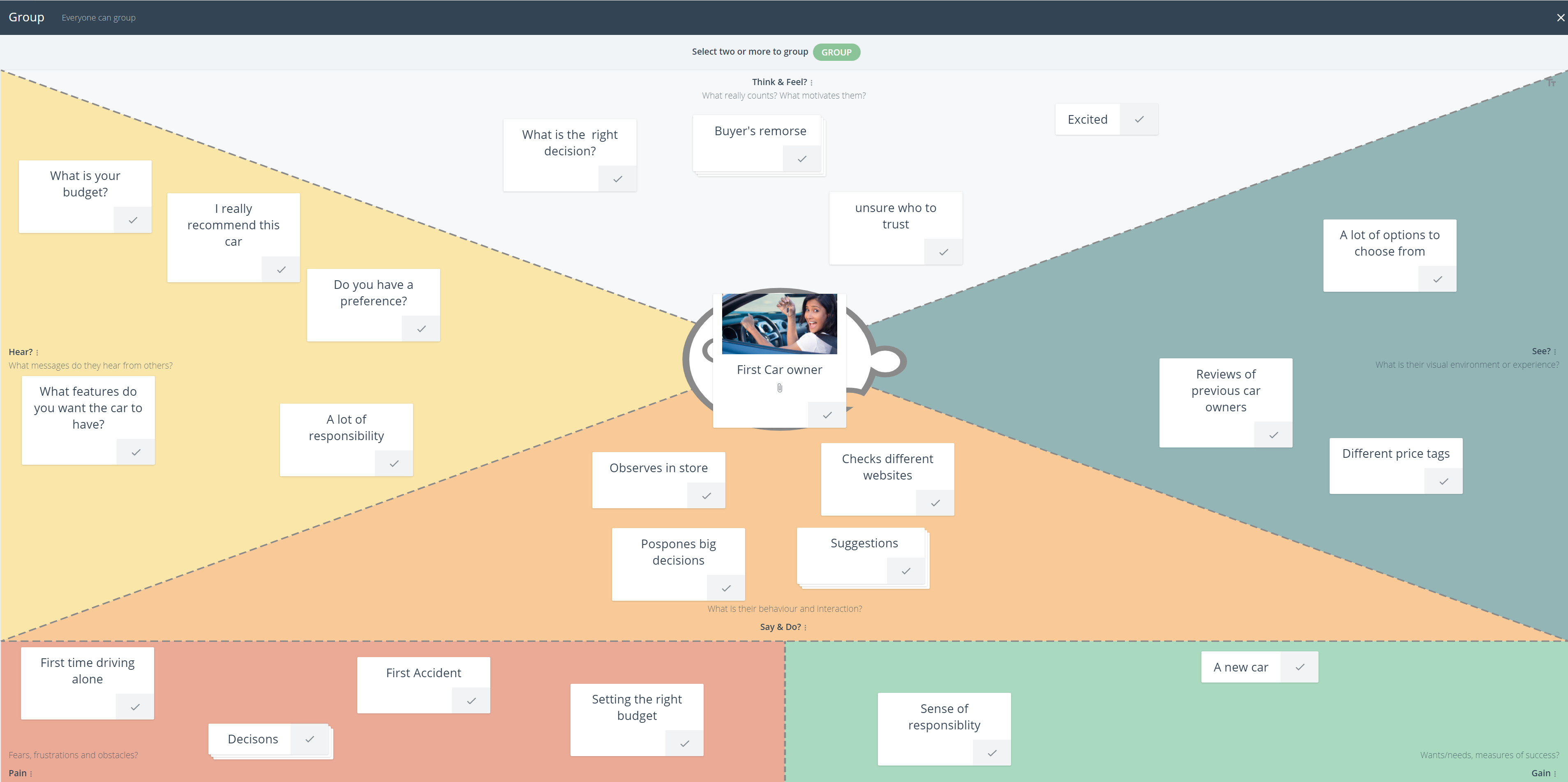 About the Empathy Map template
This design thinking tool helps the team explore the persona, pains and gains of a particular customer in order to improve service or product value to them. By capturing perspectives and building empathy, this helps with key judgement calls as to how a product benefits the customer.
By giving the the team an easy and digestible way to give the team a window into the mind of the customer and to build empathy with their experience, desires and needs. This way, the solution is designed with the customer in mind.
What are the Benefits of Using an Empathy Map?
Overall empathy mapping gives your team a greater understanding through a collaborative process to build a "picture of the user" through gathering data, ideas and information that can lead to better product design and interaction. It can summarize qualitative and quantitative research and acts as a single source of truth when developing strategies that are designed to bring value to them.
Puts the team in the shoes and mindset of the customer. 
Helps team understand the user experience (UX) in order to see how they interact with you.
Helps build a narrative based on what the customers experiences and feels. 
A simple visual framework that highlights customer needs.
A great communication piece for everyone for validation and sharing ideas.
Bang for the buck
Buyer Persona
Feature Planning
Features Audit
Lean Coffee
Tips for using an Empathy Map
Always have 1 empathy map per customer.
You can always rotate groups between each customer, allowing them to add, or thumbs up ideas that are already there.
Use comments to capture questions about a statement.
Using an opening statement that you have heard about from a customer can help with kick-starting the brainstorming process.
Use a blend of actual data and perception statements to get a holistic view.
Story telling to explain the environment and context of the end user can help set the mood and improve data collection.
Who Should do Empathy Mapping?
UX professionals and teams
Marketing teams
Product design teams
Development teams
How to Use your Empathy Map Canvas
When creating an empathy map, you should do one per person or customer type. If you are selling fresh produce, then the chef in in a fine dining restaurant with multiple service lines would be different to a produce manager of a chain. The empathy map should be labelled with a very clear definition of who the customer is. Sometimes even name and designations can help.
Kick- start the process with a statement that you hear from the customer and add this to your empathy map. This statement may have been from a user interview, email, social media or even direct feedback.
Then as a team work through the facilitated process, highlighting and indicating which responses resonate the most to help build an overall visualisation of the customer.
How to Use the Empathy Map to Run Better Meetings Brainstorm
Start brainstorming through each of the different hats. Group
Review the responses for common themes that can be grouped. Vote
Have people voted on the topics that they would like to discuss the most. Share
Share the results and facilitate the discussion towards a decision.
Brainstorm
Group
Vote
Discuss & Share
Brainstorm
During the brainstorming process, the goal is to add or consolidate data around the focussed customer in the empathy map. Having a statement that they customer has heard, a fact or some data around the customer can help to initiate the process.
Facilitate the ideation process by either having general conversations that are captured in real time by everyone, or providing some thinking time to allow everyone to add their own thoughts onto the empathy map canvas, before it is shared back to the group.
Each element of the canvas should be populated. A good way to test the quality of the canvas is to switch maps with another group, allowing them to add, question or comment on the ideas from their peer created maps.
Group
Vote
Discuss & Share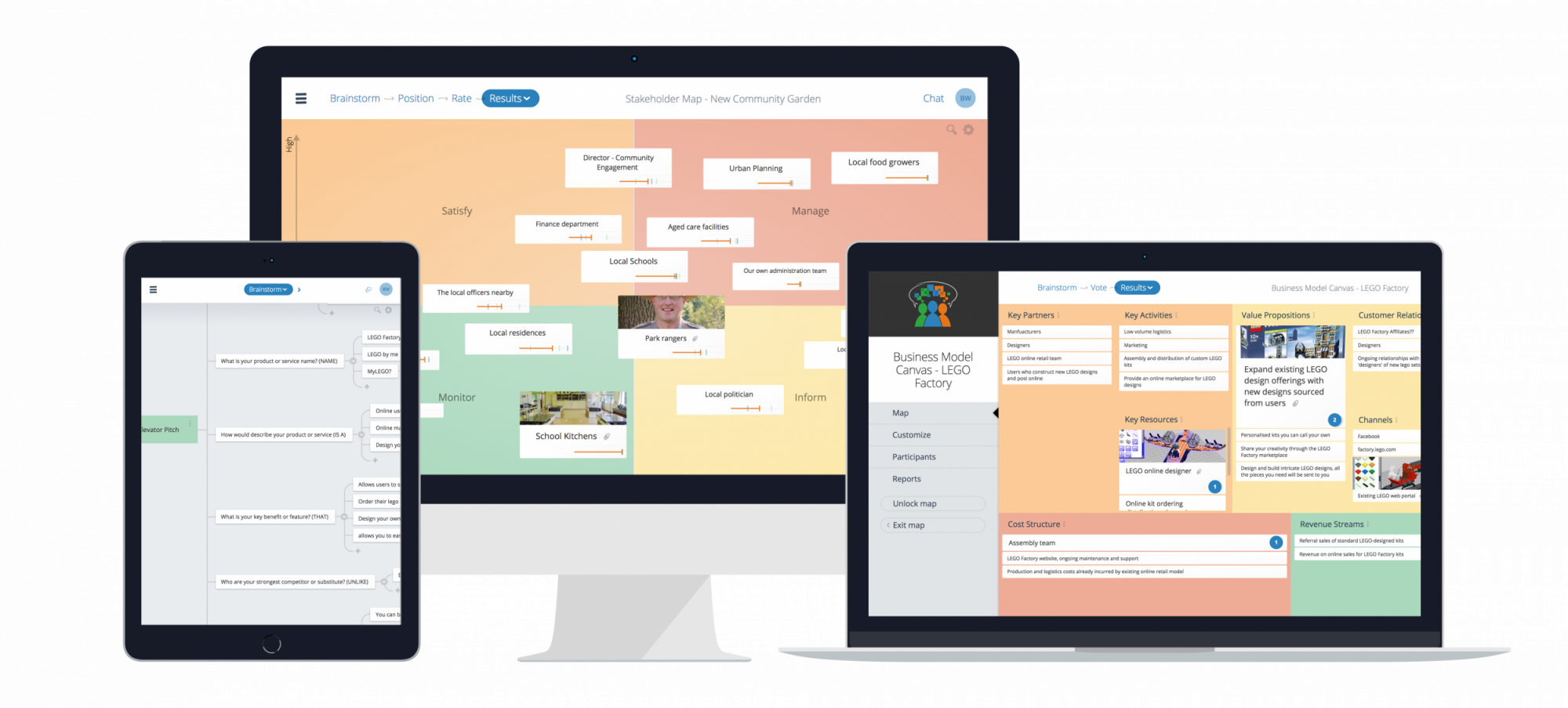 Save effort, time and money with GroupMap
Whether you have your best minds together in the same room, or distributed around the world, GroupMap's unique technology allows groups of up to 2000 to submit ideas independently at separate times, from different places, in different timezones. Prevent dominant personalities swaying the group, drowning out the opinions of others – GroupMap allows everyone to brainstorm independently then effortlessly combines that information to reveal the full spectrum of ideas. GroupMap templates keep the objective front and center throughout the session, keeping everyone on task. This ensures the activity identifies actionable issues rather than becoming just a discussion on ideas. GroupMap gives you all the group decision making tools you need to prioritize, decide and take action.
Create your first map and invite people in to start sharing their thoughts right NOW. Experience the power of GroupMap with our 14-day, no risk, FREE trial. You don't even need to provide your credit card details to access to all of our features, including the entire suite of templates, for a full 14 days.