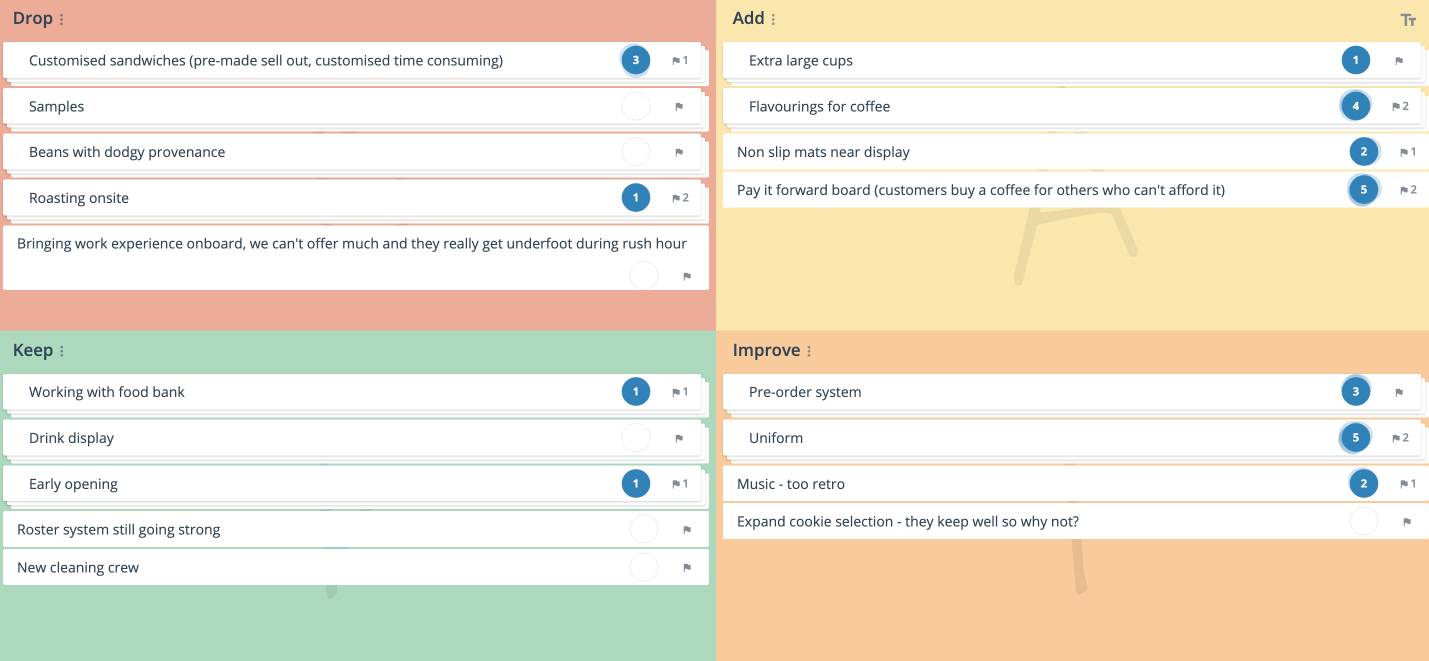 What is a DAKI Retrospective?
The DAKI retrospective is short for the Drop Add Keep Remove retrospective. It helps a team reflect on the different processes they use in order to achieve their goal. They can assess the value of each process and take action to help them perform more effectively.
It's a great tool to use later on in the project cycle. This way the team has the chance to view how each process has (or hasn't) contributed to their progress to date.
The DAKI retrospective is really simple but  thorough. Some say it takes the start stop continue retrospective up a level. As well as identifying actions they feel they should drop, add and keep, the team has the chance to explore ways to improve processes.  
The DAKI retrospective is a great way of supercharging a high-functioning team.
GroupMap's DAKI retrospective focuses on four areas:
Drop 

– these are the actions that aren't delivering value.

Add

– these are the things the team wishes to include

Keep 

– these are the actions that deliver value as they are

Improve

 – these are currently happening and could deliver greater value
Like all of GroupMap's templates, the DAKI retrospective can be customized to make it your own. This means you could, for example, add other areas of focus such as 'Hugs and kudos'' to identify the achievements of individual team members.
Why do a DAKI  Retrospective?
Using a DAKI retrospective is great for all types of agile teams.
It's a good tool to use to address retro-autopilot (when people give similar responses at each retrospective). It's also great to use if your team feels they are in a rut. Using the DAKI will help shake things up and refocus the team.
The DAKI retrospective can also help the team recalibrate after a challenging sprint. It gives people the opportunity to drop the actions that made things difficult. The team, therefore, benefits from the lessons of the past.
A team can use the DAKI retrospective to clearly define the next steps they agree to follow to reach their goal as quickly as possible.
You can use it to:
Assess processes and identify and address any small problems so they don't grow into big ones.

Provide an opportunity for all team members to be heard.

Come together as a team to connect, reflect and improve.

Give team members an opportunity to share their ideas

Leverage the knowledge and experience of the whole team to shape next steps.

Empower teams through collaboration to solve problems, build solutions and own the processes they design to deliver success.

Offer your team the chance to safely engage in healthy dissent with a view to building better solutions.
Who should use a DAKI Retrospective?
With agile practices now used across a number of industries, the DAKI retrospective could support teams of all types.
 DAKI retrospective could be used by:
Innovation Officers

Team Leaders

Program CoordinatorsAll project teams

Scrum Masters

Iteration Managers
It is a great tool to support a team's continuous improvement.
Related templates
Starfish Retrospective

Hot Air Balloon Retrospective

ESVP
Tips for effective retrospectives
DAKI Retrospective Template
Drop
These things could be distracting or time-wasting. They do not bring value.
Question to ask:
What's stopping you from focusing?

What makes your job difficult?

What takes up most of your time?
Add
New ideas and fresh innovations.
Questions to ask:
What has worked for other teams?

What haven't we tried?

What would you love to try?
Keep
These things are going well and continue to support the team.
Question to ask:
What's running as it should?

What can we rely on?

What's delivering value?
Improve
These are current actions that need tweaks to be more effective.
Questions to ask:
What has even more potential?
What do we know could be better?
What can we refine?
How to Create a DAKI Retrospective
A DAKI retrospective is a chance for the team to reflect on how they spent their time and where they directed their energy. It helps them define issues that can be solved, and shape the next steps. It's important to have all team members involved. 
In the case of remote and distributed teams, it can be difficult to get everyone together in the same room at the same time. Delivering the retrospective online is the ideal way of engaging all team members.
Screen sharing software, video conferencing, and online collaboration tools allow facilitators to deliver inclusive retrospectives. GroupMap's anchors and engines retrospective has been designed with this in mind. It can be used with any type of team (co-located, hybrid or remote). So it's a cost-effective way of delivering focused, effective retrospectives.
The time it takes to run a DAKI retrospective meeting will vary depending on the scope of the session. Setting and keeping to "timeboxes" for each stage can help streamline the process. Teams should be able to identify and prioritize issues and develop an action plan in less than 30 minutes.
GroupMap has included five key steps in its DAKI template. However, like all our templates, it can be customized to include additional process steps (such as rating) to support your group's collaborative process.
How to Use a DAKI Template to Run a Better Retrospective Brainstorm
Discuss and populate each section of the DAKI retrospective. Group
Discuss and group any common ideas. Prioritize
Vote on the key areas you need to take action on.

Action Plan
Identify actions for each priority idea. Assign responsibility and timeframes to a group or individual. Share
Share the outcomes of the session, including the action plan, to relevant stakeholders.
Brainstorm
Group
Vote
Action Plan
Share
Brainstorm
Revisit the "Prime Directive" to lay the ground rules and establish expectations for behavior during the retrospective meeting.
Regardless of what we discover, we understand and truly believe that everyone did the best job they could, given what they knew at the time, their skills and abilities, the resources available, and the situation at hand.
DAKI retrospective ideas may be gathered individually or as a group using a whiteboard, sticky notes, Google Docs, or a specialized online collaboration tool such as GroupMap.
Start by capturing ideas for "Drop" and then move on to the other sections. Each idea should be made visible to everyone, discussed, clarified, and
challenged where necessary, to ensure all participants have a shared understanding.
It's important to drill down to the root cause of each idea and support it with data where possible.
Group
Vote
Action Plan
Share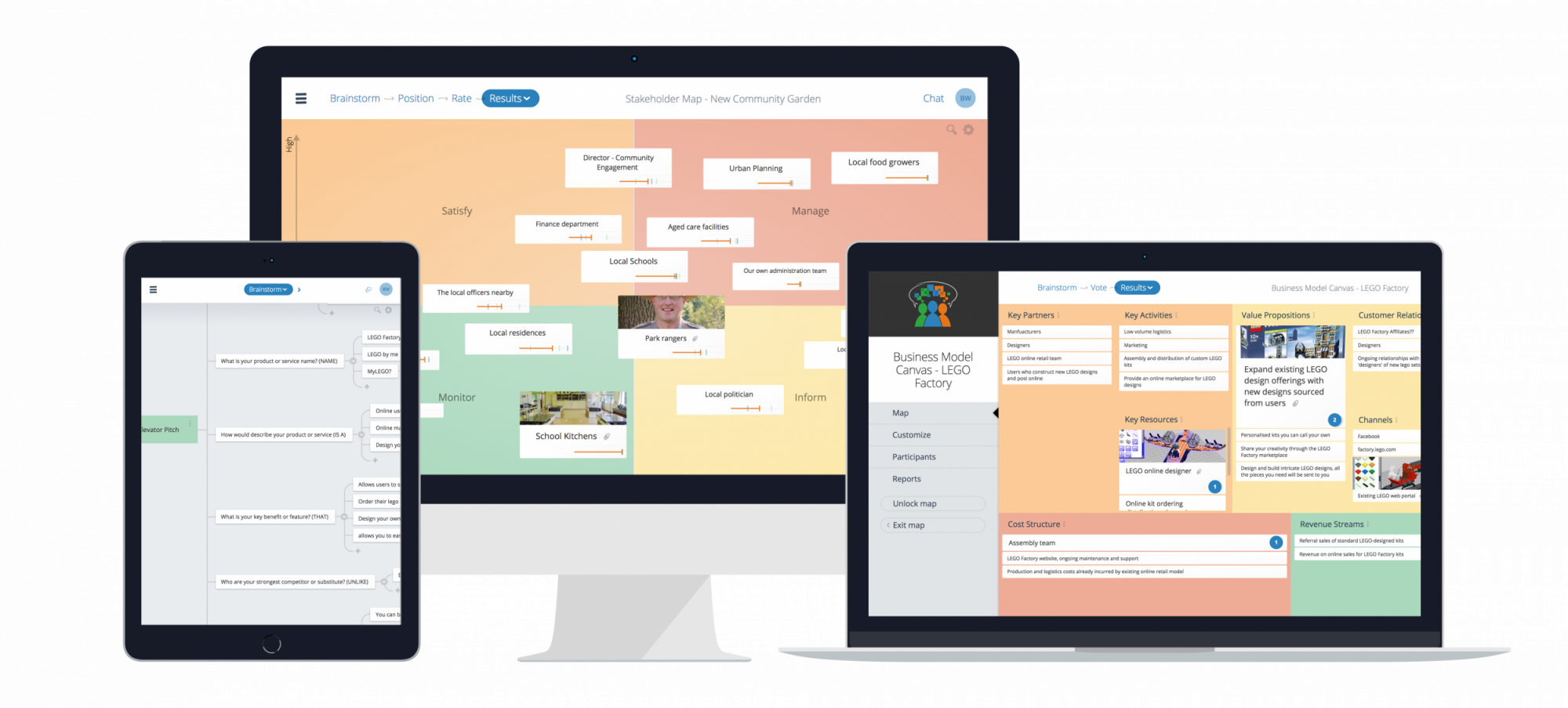 Save effort, time and money with GroupMap
Whether you have your best minds together in the same room, or distributed around the world, GroupMap's unique technology allows groups of up to 2000 to submit ideas independently at separate times, from different places, in different timezones. Prevent dominant personalities swaying the group, drowning out the opinions of others – GroupMap allows everyone to brainstorm independently then effortlessly combines that information to reveal the full spectrum of ideas. GroupMap templates keep the objective front and center throughout the session, keeping everyone on task. This ensures the activity identifies actionable issues rather than becoming just a discussion on ideas. GroupMap gives you all the group decision making tools you need to prioritize, decide and take action.
Create your first map and invite people in to start sharing their thoughts right NOW. Experience the power of GroupMap with our 14-day, no risk, FREE trial. You don't even need to provide your credit card details to access to all of our features, including the entire suite of templates, for a full 14 days.