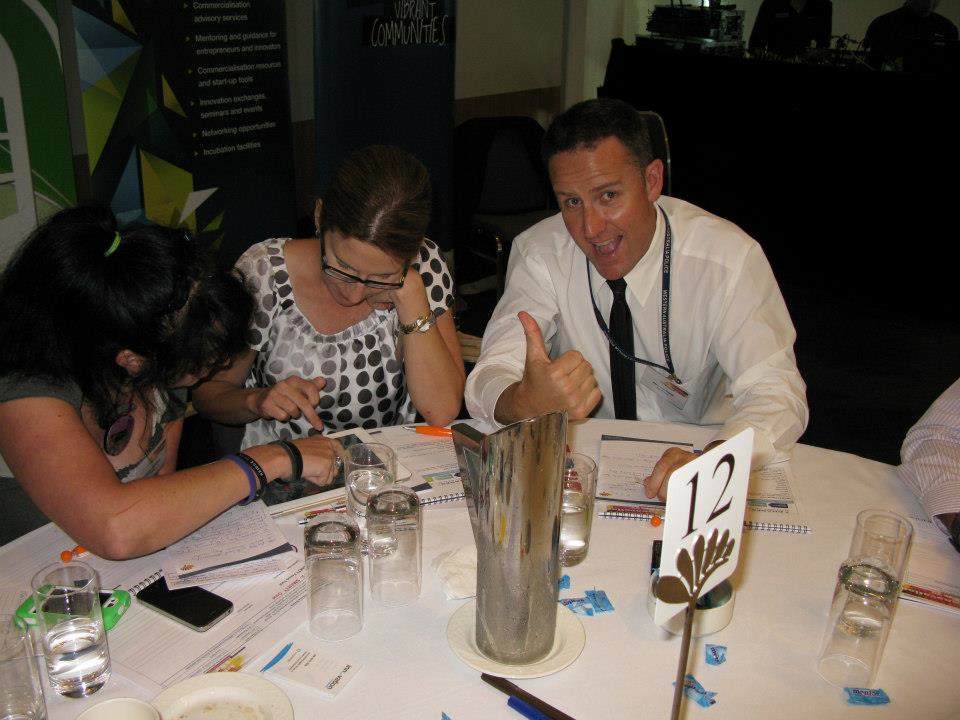 The problem with large groups is that usually, you have to break up into smaller groups, scribble on sticky notes and butcher's papers. The scribe never writes down what you said and the person who is the nominated speaker tends to say what they want.
Using polling may be a choice but that certainly won't work for an innovation workshop and the chances of ideas being seen at the bottom of a discussion board or in a series of tweets are minimal.
So how do you get 150 brilliant minds to solve a wicked problem?
Fortunately, the committee of the Public Sector Innovation Conference realized that a little innovative technology for group brainstorming and consensus building was needed to get the most out of the workforce on the day. (See their review here)
Facilitated by Innovation Culture, the group was tasked to solve a wicked problem around 6 areas in the public sector. They had to come up with some ideas, ranked against urgency and impact, and present the findings to the panel of Director Generals on the same day. We've shared some tips and learning below.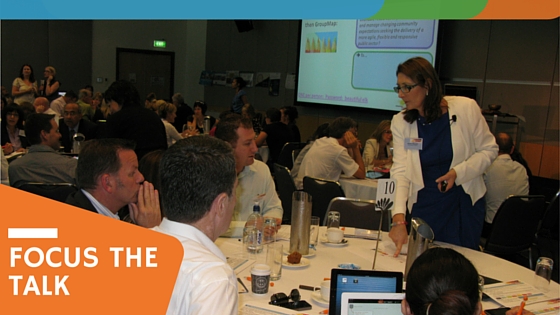 Map 1
The practice mindmap – Gift ideas
Each team was asked to come up with ideas for presents that they would like to receive. As ideas of gifts floated around the room as suggestions, people who saw a fit that they wanted to would add it to their map. In under 5 minutes, we had a shopping list ranked in order of demand.
Map 2
The practice 2D chart – Rank the gifts
The top gifts were then ranked against cost versus the perceived level of "coolness" associated with that gift. This showed how the teams' vote on ideas influenced the overall ranking of the gift in the group's response.
Map 3
Creating a Focus Goal – How Might we
To stimulate some creative thinking, the question was asked about potential opportunities. The key words chosen to start the sentence was How Might We… Groups were asked to come up with ways to complete that sentence.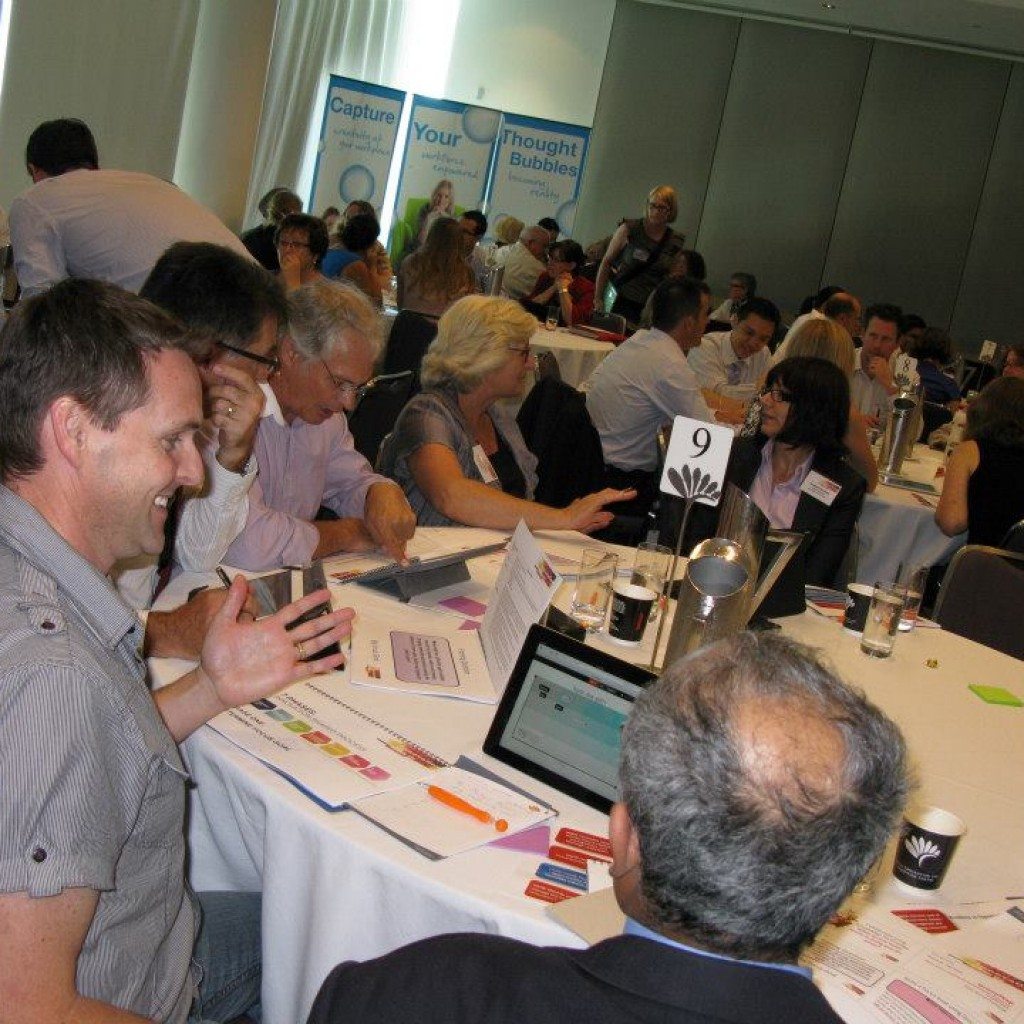 Map 4
Develop a SMART goal
Each Department was then asked to write a SMART goal for their area which would then be shared with others. There was no voting required, but it quickly generated a list of all goals and provided some practice for goal setting.
Map 5
Innovation perspectives – Idea generation around 6 perspectives
With some goals now developed, the group was asked to come up with ideas that could be implemented to meet some of these goals. Teams were asked to put their ideas against 6 different perspectives such as processes and systems, skills and knowledge, and collaboration and partnerships. Over 50 unique ideas were generated on the day, of which the top 6 were identified.
Map 6
Rank the top initiatives (2D Chart)
The top 6 ideas were then visually ranked by the group against the following criteria:
Level of value – what value will it provide to the government, community, and industry.
Level of impact – what level of impact will it have on the outcomes against the other ideas.
As an outcome, 3 clear standout initiatives were presented back to the panel. Arguments were presented as to the viability of the initiatives and the Panel used the level of support for each idea to gauge the energy of the room and what people wanted.
So here are our top 5 tips for effective large group brainstorming and creating audience engagement.
1. Have a practice map or two – it takes away the fear of having to get it right the first time and it makes for a great ice breaker if you have an interesting or fun topic. Gifts are great, but you can also try movie stars, books, food, and songs.
2. Follow brainstorming rules… at first. Allow for a number of ideas without judgment. Let one thought stimulate others and provide an anonymous free-flowing environment for ideas to come to life. Everyone has a voice, so give everyone the opportunity.
3. Allow the 4 D's – Debate, deliberation, discussion, and deliberate dissent are all needed to then go through the ideas on their own merit. Group brainstorming has been said to be ineffective without the ability to cull and work through ideas. ( This means being able to reject suggestions or delete ideas in GroupMap!)
4.Pick technology that fits the audience – If you want a long detailed narrative, then use discussion boards. If you simply want a tally, then polling suits. But if you want innovative ideation and collaboration then make sure your technology is simple to use, encourages social engagement but without distraction, and shows what the group has built together, in real-time.
5.Manage GroupThink and the dominant participants – You know the problem. You've built a collaborative environment with shared ideas and consensus. You then get that one person who decides that their opinion or idea should supersede the entire group's view. And, they will make a point of it. Thank them for their input, capture their feedback, and then move on graciously.
Public Sector Innovation Conference is an annual conference managed by the Institute of Public Administration in Australia and was jointly run by the Innovation Centre of WA. Its goal is to increase collaboration across government departments and to foster improved communication and innovative outcomes.
GroupMap is an online audience response tool that allows large group brainstorming and consensus buildings. Ideas are suggested in turn to manage information overload and are rotated for equal air time. We make things fast but fair. It is an effective tool for group ideation and decision-making for workshops, conferences, and classrooms.