What is a meeting agenda template?
A meeting agenda template is a tool designed to make building an agenda easy. It does this by helping to gather all the elements needed to plan and deliver an effective meeting.
A meeting agenda template offers a customisable framework that can be shared by everyone who is involved in the meeting. This helps to set a collaborative tone even before the meeting begins.
Because everyone can see and contribute to the template, stakeholders have shared ownership of the meeting process. This increases buy-in, which contributes to meeting effectiveness.
GroupMap's meeting agenda template includes nine elements to get you started:
Meeting details

Meeting Materials

Attendance

Apologies

Previous Business

Reports

New Business

Actions

Parked Items
Why use a meeting agenda template?
A meeting agenda template makes organizing a meeting faster and easier, without sacrificing attention to detail.
While the importance of an agenda is well-known, it's often given a low priority. Its preparation can be overshadowed by more urgent matters. It can be allocated to a person who has the time rather than the expertise to deliver an agenda. It can be pulled together 'on the fly and so can lack clarity of process.
A meeting agenda template overcomes all of these obstacles as well as delivers other benefits by –
Presenting an easy-to-follow structure to which everyone can contribute.

Delivering a transparent meeting planning process.

Sharing the agenda building process, thereby reducing the time any one person needs to allocate to its delivery.

Leveraging the expertise of the whole group in support of the planning process.

Including documents as attachments, so they are easy to distribute to the group and document control is effortlessly supported.
The meeting agenda template reduces the time required to document the meeting itself. This is because key information and discussion points have already been recorded.
You can also use it to:
Set clear, organization-wide, meeting standards that deliver consistency between meetings and across teams

Capture key documents for good governance

Track outputs and decision points

Make it easier to rotate the meeting facilitator role

Provide an opportunity for all meeting participants to contribute and feel heard

Deliver all meetings types including online, hybrid, and asynchronous

Build a psychologically safe meeting space
Related templates

House Rules

Photo Wall

Two Truths and One Lie

Exit Ticket 3-2-1
Tips for effective meeting agendas
Who should use a meeting agenda template?
Anyone looking to support the delivery of a meeting can use a meeting agenda template. It is a really straightforward brainstorming meeting tool that can super-charge the effectiveness of any type of meeting.
As such, the template could be used by:
Meeting Facilitators

Executive Officers

Company Secretaries

Team Leads and Managers
It is a great tool to reduce the time burden of meetings while improving participation rates and record-keeping accuracy.
Meeting agenda template format
How to create a meeting agenda template
When it comes to remote and distributed meeting participants, this online template is a real game-changer. It means everyone can be actively involved in the planning process and so completely up to speed when the meeting itself starts.
Of course, with the template populated, moving to the next step of delivering the meeting online can be done seamlessly.
Screen sharing software, video conferencing, and online collaboration tools allow facilitators to deliver inclusive meetings. GroupMap's meeting agenda template has been designed with this in mind. It can be used with any group type (co-located, hybrid or remote). So it's a cost-effective way of removing geographical barriers to participation.
The time it takes to complete a meeting agenda template depends on the nature of the meeting and the detail required. Sharing the template with plenty of lead time will allow contributors to work it in with their own schedules. This will help deliver a better quality outcome.
How to use a meeting agenda template Set agenda elements
Define the sections of the meeting agenda template Invite
Invite contributors Brainstorm
Populate each section of the meeting agenda template
Set agenda elements
Invite
Brainstorm
Set agenda elements
Clearly define the sections that need to be included in the meeting agenda.
Make sure the sections –
Will help to deliver the goal of the meeting.

Take into consideration any governing documents to which the meeting must align.

Include items that fall within the remit of the group.
This step lays the foundation for the meeting, so it's worth dedicating some time to it.
Invite
Brainstorm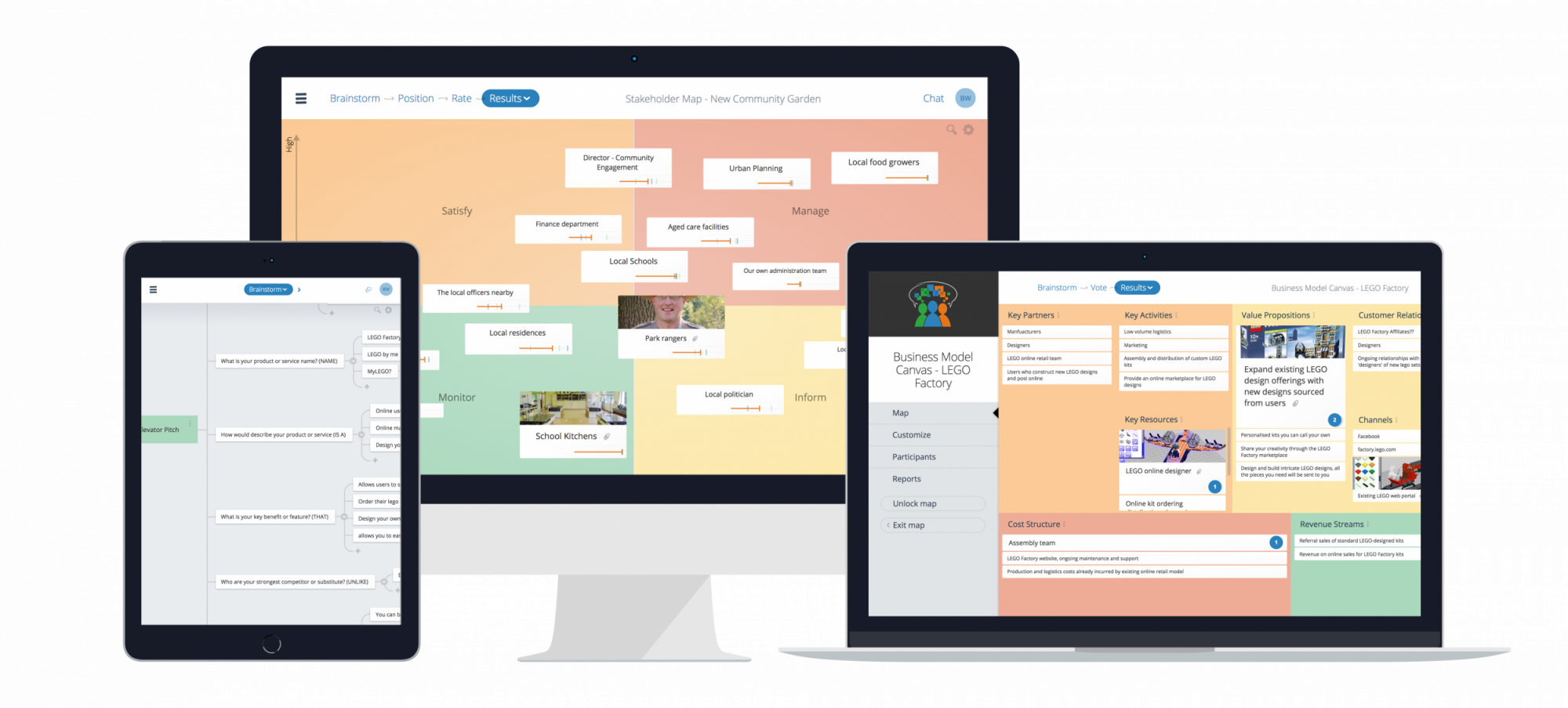 Save effort, time and money with GroupMap
Whether you have your best minds together in the same room, or distributed around the world, GroupMap's unique technology allows groups of up to 2000 to submit ideas independently at separate times, from different places, in different timezones. Prevent dominant personalities swaying the group, drowning out the opinions of others – GroupMap allows everyone to brainstorm independently then effortlessly combines that information to reveal the full spectrum of ideas. GroupMap templates keep the objective front and center throughout the session, keeping everyone on task. This ensures the activity identifies actionable issues rather than becoming just a discussion on ideas. GroupMap gives you all the group decision making tools you need to prioritize, decide and take action.
Create your first map and invite people in to start sharing their thoughts right NOW. Experience the power of GroupMap with our 14-day, no risk, FREE trial. You don't even need to provide your credit card details to access to all of our features, including the entire suite of templates, for a full 14 days.