What is a Corrective Action Plan?
A Corrective Action Plan is a systematic approach to addressing problems or issues that have been identified in a process, system, or project.
Why Use a Corrective Action Plan?
A Corrective Action Plan can be used when there is a need to address and improve an issue in the workplace. It could be the quality of a product or service, customer satisfaction, or the overall efficiency and effectiveness of a process or system.
It helps your organizations identify and address problems early on, before they become larger issues that can negatively impact the organization's reputation, financial performance, and overall success.
Anyone who is involved in a process or system can benefit from a corrective action plan. This includes
Individuals and teams responsible for quality control, risk management, and Six Sigma.
Project managers
Change agents and leaders
Team leaders and agile scrum masters
Tips for effective corrective action plans
Corrective Action Plan template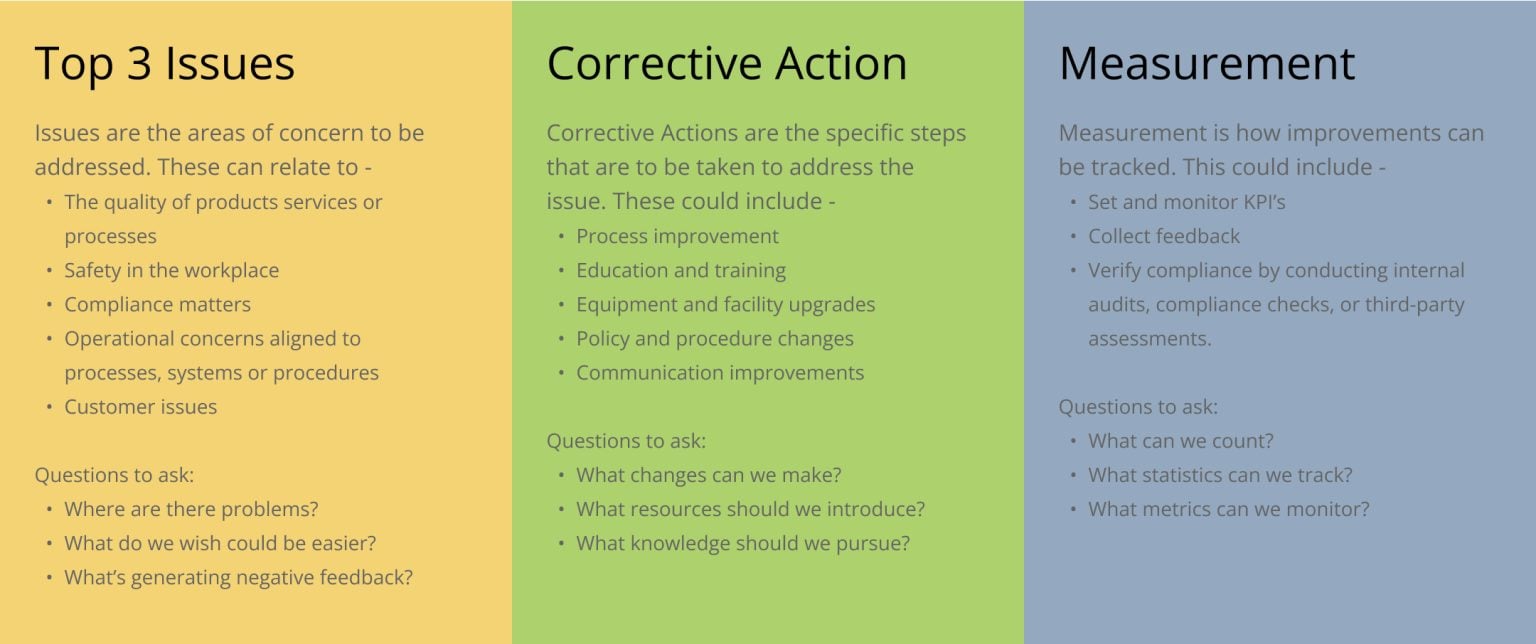 How to Use the Corrective Action Plan Template
The Corrective Action Plan is a map designed to facilitate a collaborative approach to identifying and addressing issues in the workplace.

Start by making sure all stakeholders impacted by issues have access to the map. Using an online collaborative tool such as GroupMap allows those stakeholders to engage both in person and remotely. It can also allow for the group to share their input either synchronously or asynchronously depending on their availability.

As one section of the map leads to the next, it is best to work through it one column at a time. First have the group decide upon the top three issues it will discuss. Then have them settle on the corrective actions they will use to address them. Finally, have the group identify the various metrics that will be used to track success in the 'Measurement' column. Brainstorm
Add ideas one column at a time Like/Dislike
Indicate which ideas you support

Action
Share and implement agreed actions
Brainstorm
Like/Dislike
Share
Brainstorm
Start by inviting the group to add their top three issues to the map; one in each box. The ideas can be discussed with people indicating if they like or dislike each issue (see next step).

Once the three issues are defined and agreed to by the group, move on to 'Corrective Action'. Again, invite the group to add corrective actions for each issue with discussion and the use the like or dislike being used to decide which of the actions should be considered.

Finally, have the group consider 'Measurement'. Invite the group to suggest the way in which each of the actions can be measured and tracked over time.
Like/Dislike
Share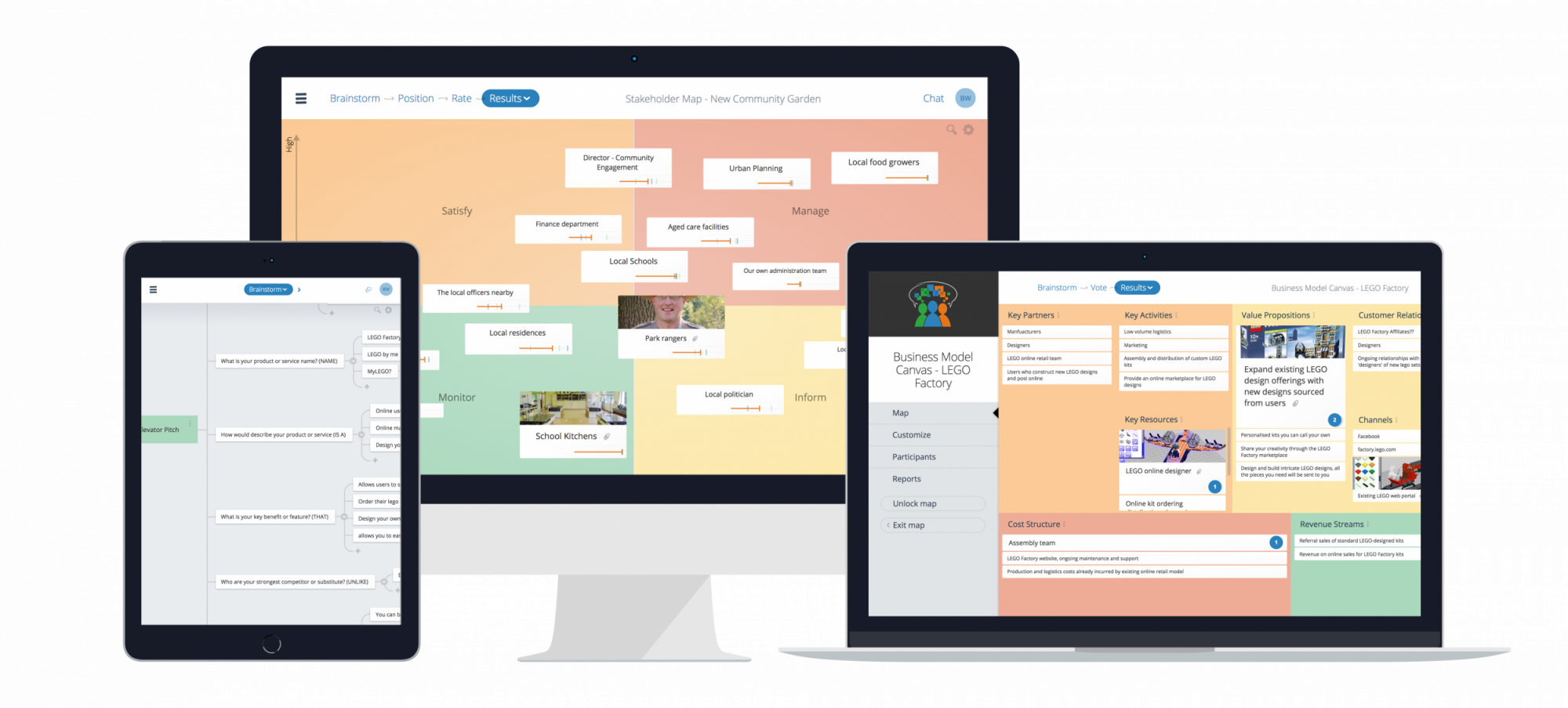 Save effort, time and money with GroupMap
Whether you have your best minds together in the same room, or distributed around the world, GroupMap's unique technology allows groups of up to 2000 to submit ideas independently at separate times, from different places, in different timezones. Prevent dominant personalities swaying the group, drowning out the opinions of others – GroupMap allows everyone to brainstorm independently then effortlessly combines that information to reveal the full spectrum of ideas. GroupMap templates keep the objective front and center throughout the session, keeping everyone on task. This ensures the activity identifies actionable issues rather than becoming just a discussion on ideas. GroupMap gives you all the group decision making tools you need to prioritize, decide and take action.
Create your first map and invite people in to start sharing their thoughts right NOW. Experience the power of GroupMap with our 14-day, no risk, FREE trial. You don't even need to provide your credit card details to access to all of our features, including the entire suite of templates, for a full 14 days.