Run engaging virtual brainstorming meetings with your remote teams.
GroupMap lets everyone share great meeting ideas on customisable templates in a simple, organised and focussed way.
From lean coffee and agile retrospective through to kanbans, ice breakers and action planning. Capture ideas without edit wars or bias, independently prioritise and build team consensus.
See why professional facilitators use GroupMap to create engaging, effective and efficient online team meetings.
Want better engagement for remote team activities? Here's a few ideas.

Start with one of our 80+ templates or create your own team building activity or meeting agenda. From structured one on one meetings and super quick stand ups through to team building and prioritsing actions. GroupMap gives you the tools to create more meaningful conversations.
Create a Team Contract
One on one's
Team definition
Plan the week
Virtual Lean Coffee
Remote retro
Create a Team Contract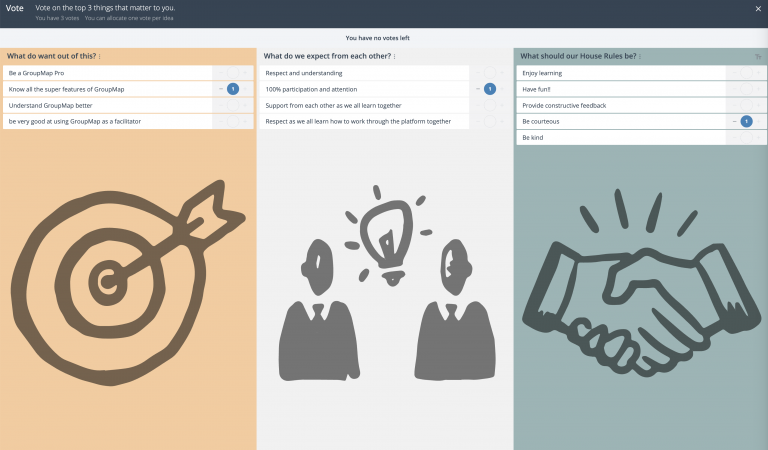 Help everyone in your remote team work better together.
Creating a shared agreement or set of House rules  can improve team bonding, communication and productivity.
The House Rules templates helps your team create a social contract by establishing the codes of conducts. Each person can brainstorm and add ideas collaboratively then dot vote independently to decide which behaviours and actions they believe the team needs.
One on one's
Team definition
Plan the week
Virtual Lean Coffee
Remote retro
Supporting team building activities, wherever, whenever!
Bring your team together and create a sense of belonging through collaboration, team building or fun bonding activities that you can easily create using  GroupMap's many customisable templates. 
Foster more meaningful conversations with a range of brainstorming styles, prioritisation techniques and team engagement tools.
Fast, reliable cross-browser and cross-device capability with nothing to download means that team members can get involved quickly and easily.
Empowered decision making
Involve your remote team members in every step of the decision making process. 
Encourage a feeling of empowerment by asking remote team members to vote and rate on ideas before they become a decision. 
Then download results of your team brainstorming and voting in one click to show the overall demoractic and engaging decision making process.
Compliments team communications
Use GroupMap with Zoom / MS Teams / Skype and more to support your remote team activities and get better engagement. 
GroupMap elevates your video or voice call into a collaborative experience for team members and provides a way for ideas to be brainstormed and be visible to everyone.
Harvest the data and facilitate better group discussions and deliberations.
I used GroupMap at a dairy leaders summit in Melbourne yesterday to identify BIG ideas for participants to implement across 4 topics. Went really well with good discussion and quick reporting - a saviour as we had a 'non-negotiable' deadline to work toward.

Director and Principal Consultant Andrew Huffer and Associates

I work for Cisco Corp Development group in Cisco. The meeting that I facilitated is from up my chain of command. Every executive in the meeting thought it was super easy and slick. It allowed the team to vote together, across geographies/location, and instantaneously see the results... And helped us to quickly move to pick top themes, gain owners (without the ego and debate).

CISCO

We have used GroupMap to replace parts of our scenario planning workshops to get things done without travelling. This is not only true for internal projects, but also for projects with clients from all over the world. The interface is easy to use and highly responsive. We estimate a 20% saving in costs and our clients find it easy and effective to use.

Deloitte - Centre for Long Vision

GroupMap's ability to connect people from various locations and watch ideas being added to the mind map in real-time was what convinced us that GroupMap was the best option.

Little Diversified Architectural Consulting

Ease of use, and the opportunity to use [Groupmap] asynchronously over a longer period of time – so people could either contribute during a teleconference or in the week after if they couldn't make it – were benefits we all appreciated from using GroupMap for our online brainstorming.

CEO, Patcovates

[GroupMap] supported our business success in the 2020 shift. Without it, we'd be in a very different place. As a result, our clients continue to experience success and high levels of engagement, despite working remotely. We've heard from multiple clients that the meetings we use this tool in, 'are the most productive online meetings this team has ever had.'

CEO, Trebuchet Group
See GroupMap in action for these remote teams
Not just another Zoom or MSTeams Meeting
A safe space for everyone to share ideas
Trusted by banks, governments and universities through to professional facilitators, GroupMap uses 256-bit TLS security and meets GDPR And privacy laws to keep you, your data and your team members safe.
Group ideas to synthesize thinking for discussion
Find common themes and groupings for ideas. Discuss, synthesize and pull all similar ideas into a group. Decide between facilitator only or audience based grouping.
Create action items linked to ideas
One of the biggest complaints from team meetings or workshops is feeling like there were no take away actions. GroupMap has an optional action step that allows you to capture key action points against ideas that can be assigned a target date and owner.  Export and share the report or take action items into a new map for further discussion. 
Manage bias and group think
Make ideas anonymous to encourage more honest or creative responses. Use individual brainstorming mode to manage social loafing and anchoring. All our voting and rating stages are done independently before results are revealed so that they are free from influence.
Poll or survey your teams
There is no need to switch tools or applications. Capture a quick thought, run a check in / check out, poll your team for a health check or feedback for new initiatives or projects.  Get even more engagement and insights easily.
Control the tech and focus the conversation
We believe that conversations and connections are key. GroupMap lets you lock the map, hide views or prevent further changes allowing you to "turn off the tech" and turn on the talk. When you are ready, bring everyone back to capture highlights. You can even use directed brainstorming to create a central capture point.
Need more to support your remote teams?
Enterprise-grade security
We use 256 SSL just like the banks. Your data, privacy and content is kept safe, and backed up.  SSO options are available for organisations. 
A secure link or code can be shared on your video conference, Zoom or Skype meeting or presentation to get your team members working on the same page instantly. 
Re-usable, repeatable templates
You can save your maps or workspaces as templates to be reused for team processes or meetings. No time? Use one of our 80+ templates to get your started.
Choose anonymity settings
Make maps anonymous to get honest answers, partially anonymous so that you can see who said what but other team members can't, or not anonymous so that names are shown against each idea.
Synchronous or asynchronous
Open up the process flow or manage brainstorming, team meetings and workshops with remote teams through stages. The choice is yours.