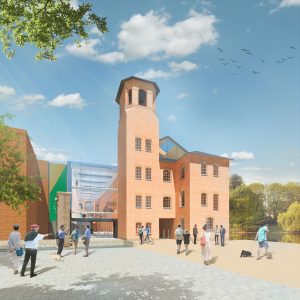 Hannah Fox is the Director of Projects and Programmes for Derby Museums, an organization that manages 3 public museums of art, history and natural history located in Derby, United Kingdom: The Derby Museum and Art Gallery, Pickford's House, and their latest project, the Museum of Making located at Derby Silk Mill, an £18 Million development due to open in Spring 2021!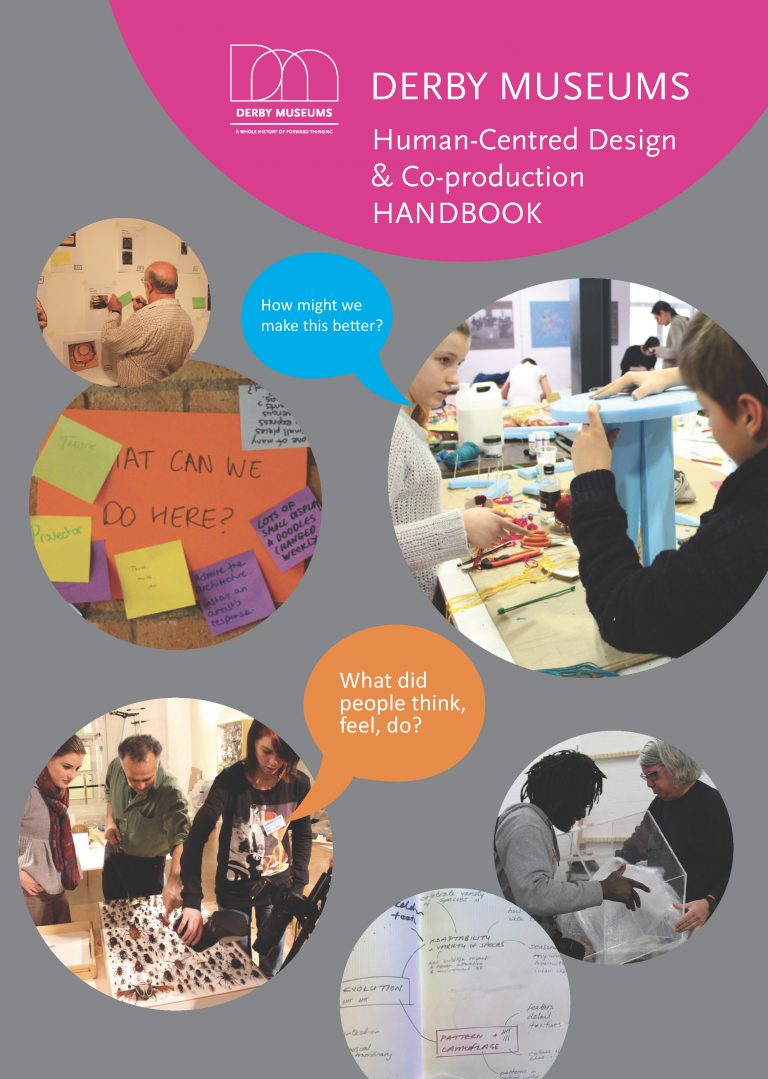 As an organization, Derby Museums uses human-centred design (design thinking) and co-production approaches to develop their projects, programmes and activities with their communities.
To learn more about this approach you can read DERBY MUSEUMS Human-Centred Design Handbook.
They also deliver online training for other cultural organizations that are interested in using human centred design and co-production approaches.
Facilitating Collaboration Online
Collaboration is at the heart of Derby Museums' projects. They work together internally as well as with external parties and use design-thinking tools to capture and prioritise the desires and needs of their communities and stakeholders.
 
Before the pandemic, most of Derby Museums' development sessions and workshops took place face to face and were facilitated through flip charts and post-it-notes… lots of post-it-notes!
As many companies have in recent times, Hannah needed to take Derby Museums' activities into the digital space and required a platform where they could facilitate their sessions online. The need to transition to a new modality for what had been outcomes driven by human contact meant that processes had to be re-engineered and meeting tools used to ensure that the values, outcomes and methodologies of Derby could be maintained, if not enhanced.
Finding the Right Collaboration Tool for Remote Teams
It was important for Hannah to find a platform that could offer a choice of tools for collaborative human-centred design brainstorming and thinking. She also needed the collaboration tool to be intuitive, flexible and able to provide a great experience for both the facilitator and participants, with the massive price tags and steep learning curve.
Before finding GroupMap she had tried other collaboration tools, but found they were either too restrictive, with limited ways to engage, or too open, which led to participants interrupting each other's contributions and as a result the experience became messy and the session less effective.
'I've been looking for a great digital platform that allows us to do similar things online as we do in person – brainstorming, empathy mapping, journey mapping etc. and have tried several – Miro, Mural, Google Jamboard etc. and I think GroupMap is by far the best user experience'. – Hannah Fox
Workshop Facilitation Tools and Techniques
Derby Museums have been using GroupMap to support them in their Museum of Making project. 
They have conducted a wide range of collaborative development sessions with staff, volunteers, and stakeholders in groups of between 10 to 50 people. These sessions were conducted through a range of virtual meetings and workshops and a range of activities and techniques were supported.
These included:
General Brainstorming
Empathy Mapping
Value Proposition
Stakeholder Mapping
Programme Design
Project Development
Teaching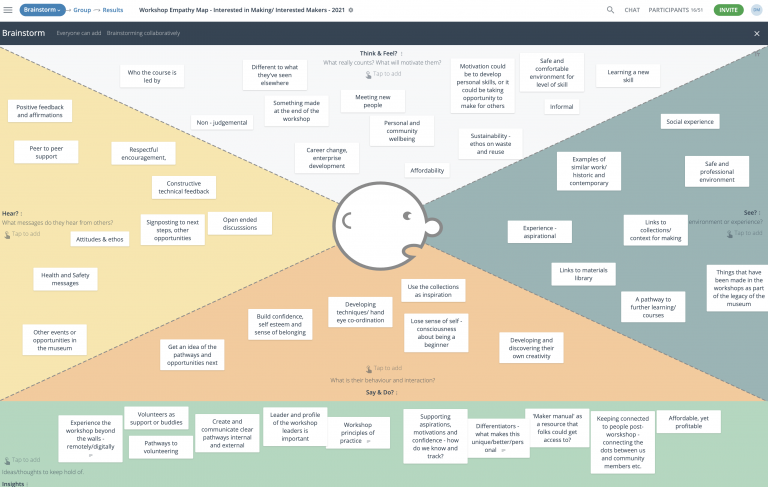 Hannah's GroupMap Experience
'GroupMap provided an invaluable collaborative tool that allowed facilitators to plan and deliver sessions effectively, enabling the journey mapping of sessions ahead of time and creating ways to run a workshop and gather insights that seamlessly enabled collaborative thinking. The participant experience was enjoyable, interesting and fun!' – Hannah Fox
Hannah was impressed by the abundance of templates GroupMap provides to help get you started, noting that they were very relevant and hugely useful. 
Hannah also reflected that the ability for the group to brainstorm and generate lots of ideas quickly in GroupMap had been particularly useful. 
As a facilitator, being able to see who is contributing enabled her to offer prompts to support the quieter contributors to increase overall engagement and participation.
She received great feedback from the participants of her development sessions with the most common compliments being how intuitive and easy it was to use the platform.
'Really enjoyed the session you ran using GroupMap – it was a fantastic way to collaborate!' – Meeting participant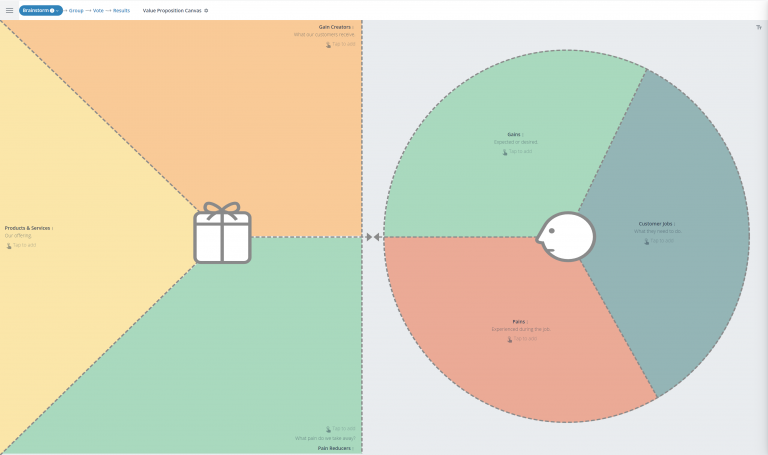 GroupMap: Supporting Organizational Outcomes
For Derby Museums, GroupMap has been a huge success, helping them achieve their organizational outcomes of:
Collaborative planning
Human-centred design and co-production activities
Sector teaching opportunities
'At last, a platform that supports the way we think and gives us a fantastic digital space to develop ideas and collaborate with others! It helped us take our normal project planning and in person activities online during the pandemic, but will continue to be a hugely useful addition to our resources once a little bit of normality returns.'- Hannah Fox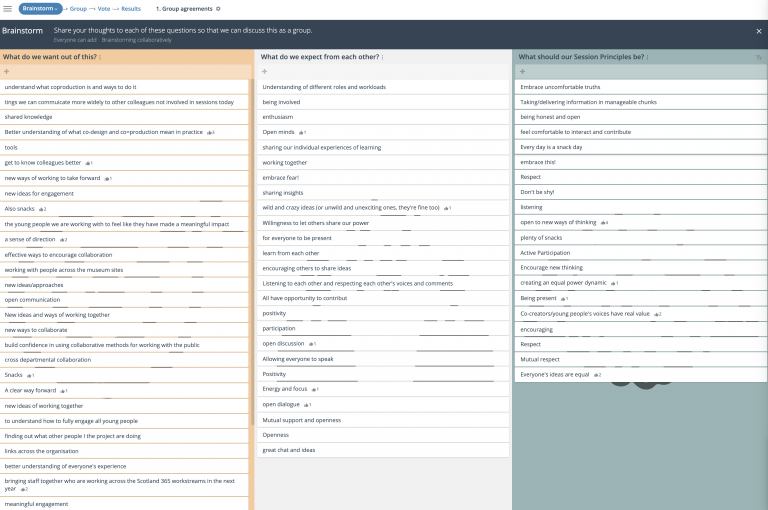 Derby Museums will be continuing to use GroupMap for planning and developing their internal projects, as well as externally to engage with partners and communities in developing ideas, gathering data and for delivering workshops and activities. These partners include corporations like Rolls-Royce, as well as museum organisations internationally.
Want to try GroupMap as an online brainstorm tool? 
Schedule a demo with a GroupMap team member at a day and time that suits you best or have a go of our easy to use, supported online brainstorm tool for FREE for 14 days today.