What is Scrum Values in Action?
Scrum Values in Action is a fun and easy icebreaker that can help your team get to know each other better and help them start to think about how the Scrum values apply to them.
The five Scrum Values are essential for creating an effective and productive team. It will help them work together better to achieve their goals. The values are:
Openness
Commitment
Courage
Focus
Respect
Why use Scrum Values in Action?
Scrum Values in Action can help deliver all of the benefits of an icebreaker with a focus on Scrum.
It encourages participation, helps to build relationships, and creates a positive atmosphere for the meeting. It can help to reduce any tension that may be in the room as well as increase engagement and energy levels.
This icebreaker is an excellent way of revisiting the Scrum Values and can act as a gentle reminder of the values themselves.
Importantly, discussing the Scrum Values is a helpful way to build a solid and cohesive team culture.
This helps a team stay focused on project goals and encourages continuous improvement.
Tips for running Scrum Values in Action
Who Should Use Scrum Values in Action?
Scrum Values in Action is a great tool to kick off an agile retrospective. They are useful for Scrum Masters and their agile software development teams.
It can also be used by any group looking to start a conversation around team culture and values.
Scrum Values in Action Template
How to Run Scrum Values in Action
Start with a positive mindset. Welcome input and thank people for their response. Remind people that there are no wrong answers and that they should be able to share freely and without fear.
Explain what each of the values means. Then invite the group to think about behaviors that could reflect those values.
Using an online Icebreakers tool means that people can collaborate, see ideas in real-time, and can add comments. Brainstorm
Add behaviours or actions for each value Share
Ask people to explain their choices
Brainstorm
Explain the reason for running the Scrum Values Icebreaker and explain each of the values.
Then, ask them to pick a value and think of actions or behaviours that they think best represent the value. This can be something that they have seen in the past, or would like to see in the future. E.g. Courage can be seen in being able to raise issues that could impact customer experience. Alternatively, you could ask them to think of behaviours that their team currently practice and to assign it to a value.
E.g. We tend to always start our meetings on time and ask that people are ready and prepared as a sign of respect.
Share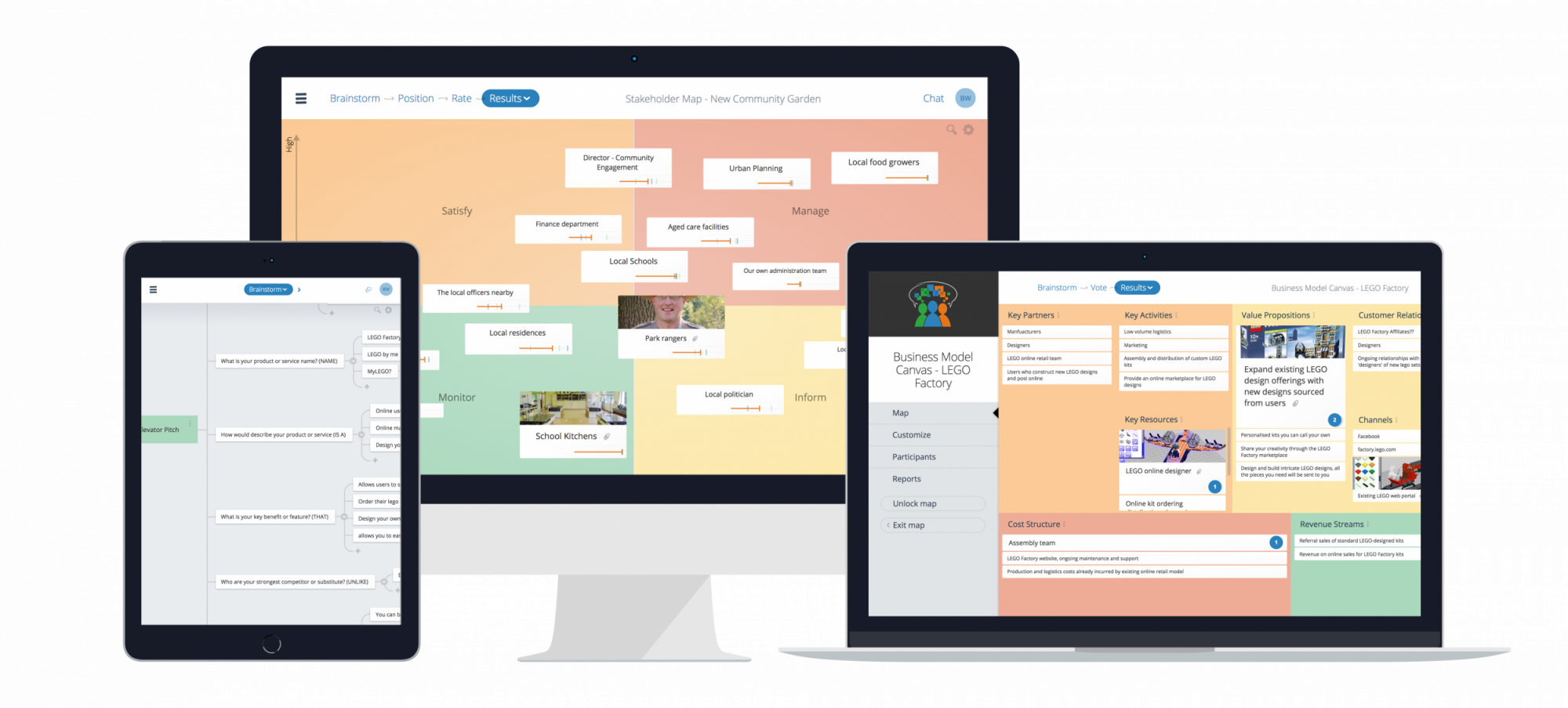 Save effort, time and money with GroupMap
Whether you have your best minds together in the same room, or distributed around the world, GroupMap's unique technology allows groups of up to 2000 to submit ideas independently at separate times, from different places, in different timezones. Prevent dominant personalities swaying the group, drowning out the opinions of others – GroupMap allows everyone to brainstorm independently then effortlessly combines that information to reveal the full spectrum of ideas. GroupMap templates keep the objective front and center throughout the session, keeping everyone on task. This ensures the activity identifies actionable issues rather than becoming just a discussion on ideas. GroupMap gives you all the group decision making tools you need to prioritize, decide and take action.
Create your first map and invite people in to start sharing their thoughts right NOW. Experience the power of GroupMap with our 14-day, no risk, FREE trial. You don't even need to provide your credit card details to access to all of our features, including the entire suite of templates, for a full 14 days.