Create interactive class brainstorming activities
GroupMap helps your students learn and think critically, collaboratively and creatively. Using activities designed by educators, GroupMap provides you with a host of teaching tools at your fingertips to engage students, support visible learning and to make your lessons interactive and insightful. All of this happens in a safe and secure learning space.
Use the time you save to provide better feedback and assess learning outcomes. Give each student a voice, create engagement and accountability while building on the collective wisdom in the room.
Ready for your students to think better together?
Creative brainstorming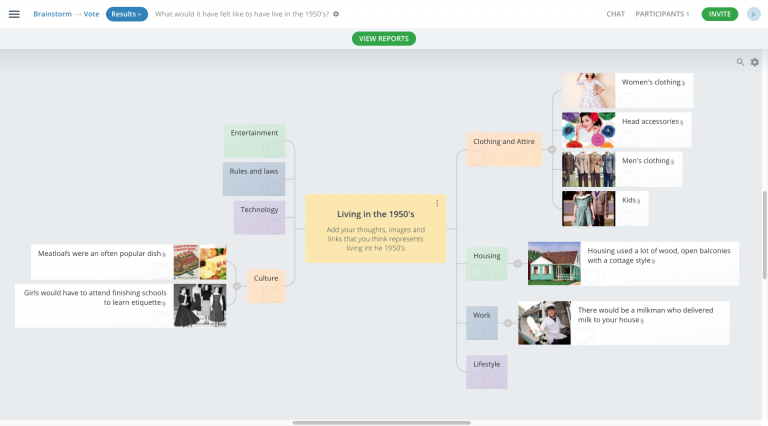 Start a mind map or a virtual wall to explore a topic
Use a mind map to brainstorm around a central theme or topic with branches or use a virtual wall to add ideas, images, links and videos to inspire creative thinking. A perfect exercise for researching a new topic or creating a virtual inspiration wall around a subject like what are the skills students will need for jobs of the future.
Create a single map for the whole class or multiple maps for each group whilst being able to safely monitor and control access. Easily see which students are the strongest contributors and give feedback to students easily.
Question and answer - digital worksheets
Exit tickets for formative assessment
Support reading and literacy skills
Build entrepreneurial and design thinking skills
Poll and survey tool for the class
Rate a presentation, speech or pitch
Develop inquiry skills
Encourage critical thinking skills
Curriculum planning as a team
GroupMap… Powering collaboration and brainstorming around the world
Went down as one of the best PD sessions ran, my team were still talking about how to engage afterwards.
Achieved a 'flipped classroom' situation. Thank you for providing an enlightening experience of the paradigm shifting potential that ICT has for teaching and learning.
Ideas were captured and shared at a much faster rate which meant session times could be reduced... shows again how new technology makes us even more efficient.
The potential for this program in a variety of learning situations is enormous.
Just wanted to reiterate the value that Groupmap provides. It is really the best of breed!
I like the possibilities and think some of my colleagues could use it. I have already recommended it to a number of people.
LearnX is always on the lookout for ways to demonstrate cutting edge technologies in the world of learning. We are excited to let you know that we will be using GroupMap for delegates at the Awards to help judge the finalists in the Best E-Learning Video Category.
It works and it's useful.
I have used GroupMap in a simulation exercise for a final year unit that I tutored. The use of GroupMap to assist in peer-feedback - and its subsequent use to drive class discussion - was well received by all three classes that I tutored.
Very useful teaching tool.
I am very impressed with GroupMap and was introduced to it via Curtin. I am using it with all my classes. I also teach at ECU. and have used this trial licence to facilitate a review with one of my classes. I shared this information with my UC who has forwarded it to others in the school. Thank you for developing such a great tool!
It is easy to use and a great way to efficiently gather data in student learning and thinking.
It's practical, easy to use and manage.
I love your product! It is outstanding and provides a way to facilitate meetings and come to decisions through participation.
I loved my tutor using GroupMap, it certainly increased my collaborative participation.
Overall I am finding GroupMap a tool that has wide applications across all aspects of teacher education as well as in-school and classroom practice. GroupMap fills a definite gap in teaching and learning practice as a partner in students' cognitive development.
The whole concept of GroupMap fits so well with our classroom practice, it's a very exciting and such a useful classroom too!
I really liked that I could share my ideas and I could see what others said about our topics, so I could learn from the as well. I really liked that it was colourful and easy to use.
Using this technology was the first time I have felt like a real student when doing my online course. I'm so glad my teacher is using it.
From ease of use across a range of devices to the premade and customizable templates, GroupMap makes it far easier to collaborate and collect that data - whether in-person or virtual. The Workspaces allow you to theme topics - or groups - depending upon your purpose. The maps themselves are easy to use and customize by situation.
'At last, a platform that supports the way we think and gives us a fantastic digital space to develop ideas and collaborate with others! It helped us take our normal project planning and in person activities online during the pandemic, but will continue to be a hugely useful addition to our resources once a little bit of normality returns.
I like the possibilities and think some of my colleagues could use it. I have already recommended it to a number of people
Just wanted to reiterate the value that Groupmap provides. It is really the best of breed!
Very useful teaching tool
Achieved a flipped classroom situation... thanks for showing us how ICT can create a paradigm shift
I loved my tutor using GroupMap, it certainly increased my participation
Customisable graphic organizers that power up your lesson plans
GroupMap gives you an easy and effective way to create digital worksheets to capture what students think so that you can save time giving feedback and better facilitate discussion and learning. Here's how…
Pick an activity that supports your lesson or create your own in less than a minute.
Invite students by email, ID or QR code in a safe, secure space that you can moderate.
Capture responses in groups or individually, anonymously or not, in real time or out of the class.
Discuss, group, provide feedback or rate the best ideas. Get activity or individual student reports.
No photocopying or lost paperwork. Replicate activities and give your lessons the interactive edge.
An educational technology tool designed and built for
Serious teachers who guide from the side
Easily create lesson plans from 50+ graphic organizer templates or create your own in less than a minute. Save time by being able to see student responses in real time, facilitate discussion and provide real-time feedback or easy assessment.
Empowering students with 21st Century thinking skills
Every student has a voice and can learn from each other. Build critical, creative and collaborative thinking skills.
Turning lesson plans into engaging class discussion
Rich media can be added to ideas to create a more engaging learning experience. Supports all core subjects areas as well STEM, inquiry or problem-based learning.

See GroupMap in action in these classrooms
Features designed for classrooms
Build, reuse and share lesson activities
Created a lesson you love? You can save the map as a template so that you can rinse and repeat. You can even invite other teachers and share templates. Now that's a time saver!
School branding and integration
Add your school logo, authentication for managing users and custom URL to GroupMap. Integrate easily by adding links to specific activities or workstations into your learning management systems such as Blackboard, Moodle or Edmodo.
Affordable upfront pricing
We keep things simple. No freemiums, in-app purchases or free tools to bait and switch. We provide a fixed price for your school from as little as $1 per person per year or teacher accounts on a month by month basis.
Staff, student and data security
All our maps already use SSL to transfer data (the same technology used by banks) and we back up your data every day. If your school needs additional security measures through firewalls and integration in a more controlled environment, we can do that too.
This is built in as a default for all education based accounts just to play it safe. @#$% be gone. Teachers can also moderate content, address online etiquette issues as a teachable moment and monitor activity.
Individual or collaborative brainstorming modes
Individual brainstorming means each student only sees what they have entered allowing you to individually assess or give feedback. Collaborative brainstorming modes means ideas can be seen in real time as they are entered which is perfect for small group work and idea sharing.
Need more reasons to get started?
Our school plans come with additional support that means we help you as a teacher get value straight away by helping you create your first lesson plan based on what you need. You'll be supported by someone in-house with real teaching experience in both high school and tertiary environments and a Masters Degree in education.
Individual student activity reports
Grab a full session report in a click or see individual student contributions so you can see who is and is not contributing.
Choose anonymity settings
Depending on your activity, you can make your maps anonymous to get honest answers, partially anonymous so that you can see who said what but the other students can't, or not anonymous so that names are shown against each idea.
GroupMap has been a finalist in the OzApp, Reimagine Education and Australian iAwards (Education) category. We continue to build tools for teachers who want to help their students think better together.