Successful meetings everyday!

Lucid Meetings is an innovation meeting company, focussed on helping teams run successful meetings everyday. 
The Lucid Meetings team focuses on the underlying systems that make successful meetings a regular part of your organization's culture – being agenda management reliable records. 
The organization's educational programs also helps teams design and lead successful everyday business meetings. 
Elise Keith is the founder and CEO of Lucid Meetings and has been using GroupMap to enhance collaboration in public educational events and private training programs. 
"Lucid Meetings helps thousands of teams worldwide run successful meetings every day," explained Elise.

"In 2020, Lucid Meetings was recognized as one of the top-10 global influencer brands on the topic of remote work and virtual meetings." 
The search for an online collaboration tool
Elise had wanted to find an online collaboration tool to support brainstorming, sensemaking, and decision making activities for large groups. 
"The free tools I've used–like Google Slides or Jamboard-lack the features and power needed to make it easy for large groups to get right to work, through no fault in design because that's not what they were built for," commented Elise. 

"Many other visual collaboration and decision support tools require lots of setup, time during the workshop for training participants, or they don't produce usable results you can work with later." 
Hitting the sweet spot with a group collaboration tool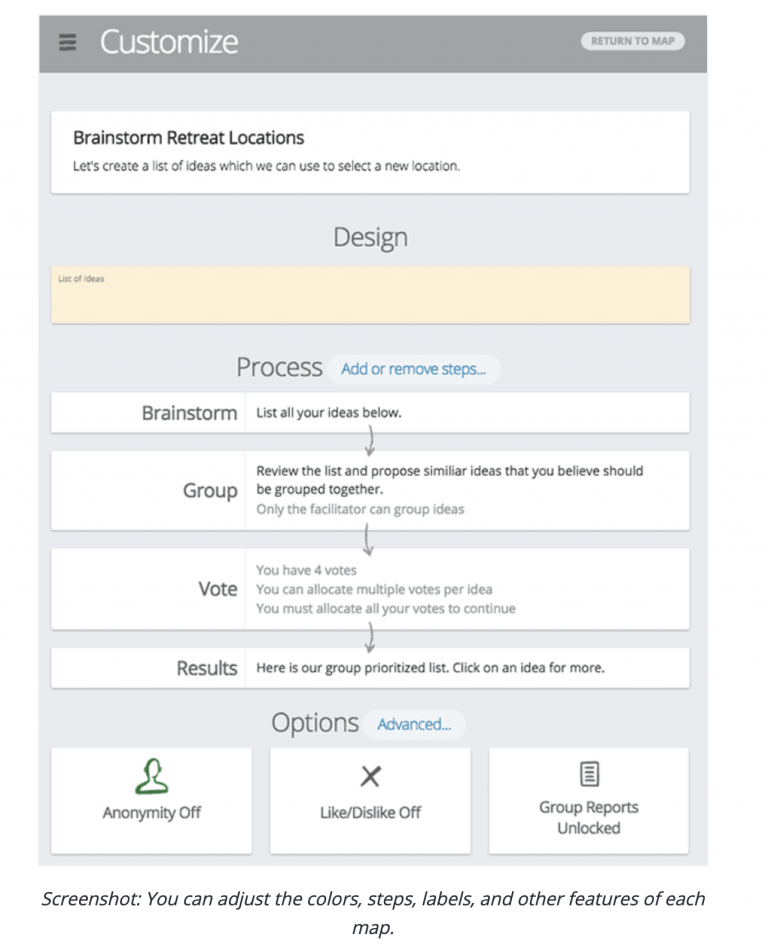 Elise found GroupMap when first researching online brainstorming and decision support software to integrate with Lucid Meetings platform in 2015. 
Her thorough research is well documented and initially looked at 25 tools for online brainstorming and decision making and has now been updated to 35 tools. 
"Five years later and after comparison to many, many others, GroupMap remains my favorite for most educational workshops," said Elise. 

"In my opinion, GroupMap hits the sweet spot. Participants find it easy to use with minimal instructions, it supports the multi-step processes I need to run, and it gives me useful data afterward." 
Using GroupMap for collaborative brainstorming courses 
Elise and the team at Lucid Meetings recently conducted a public, online event, exploring "Meeting Technology." The event included a deep dive with Scott Wharton, the VP and General Manager of Logitech Video Collaboration. 
In this event, participants used the brainstorming functionality of GroupMap, a variation on polarities and a variation on nine windows. 
Online collaboration occurred in a GroupMap workspace that Elise had set up (see below) with three brainstorming sessions.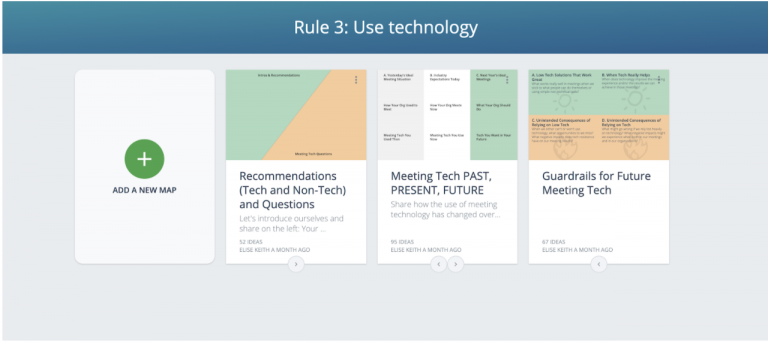 A customisable template was used to create the three brainstorming sessions for this Lucid Meetings event – starting with a polarities exercise below.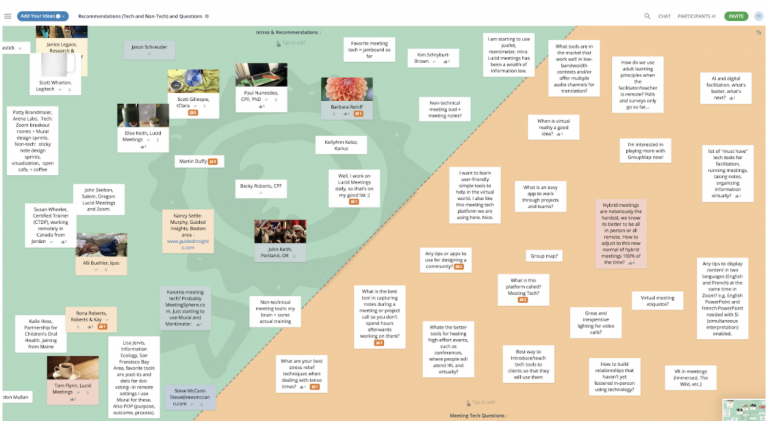 This was then followed by a four and nine windows template where participants can type in their ideas, comment on others' thoughts and also vote using the thumbs up functionality.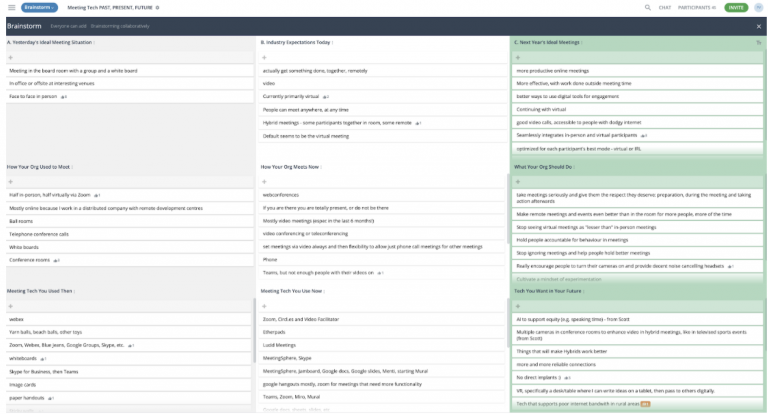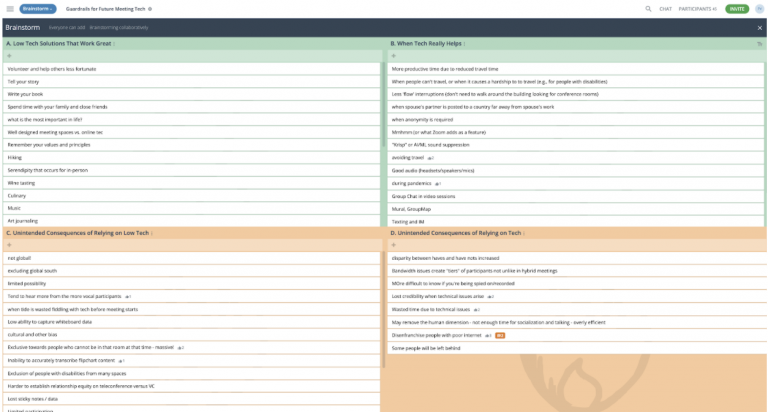 A solution for meeting facilitators 
Elise noted that the recent online event on "Meeting Technology" using GroupMap as an online tool brainstorming was well received. 
"After the event, several facilitators said they'd check it out, because it was slick."
Elise also commented that GroupMap supported the focus on Lucid Meetings events, which are on the ideas and content, not the technology itself, 
"Most of my participants didn't say anything about GroupMap at the event, which is actually perfect. When we use other tools, we often get many comments about either challenges they're having, or remarks about how much work it looks like we did to set it all up." 

"For public events, I don't want my participants thinking and commenting about all the prep work I did, so I'm really grateful when the tech can disappear so they can do the work. I feel GroupMap achieves that."

"In my private programs, we run a series of mini-workshops over the course of several months. GroupMap makes it easy for me to take content from an earlier session and build on it later. Brainstorms from one session turn into the content we sort and analyze in later sessions."

"This makes it easy for everyone to see both how their ideas are evolving, but also to pick right back up from where we left off."
As a meeting facilitator herself, Elise indicated that using GroupMap gives her access to easily harvestable and analyzable data. 
"I can also publish pretty maps, which enhance the post-event value."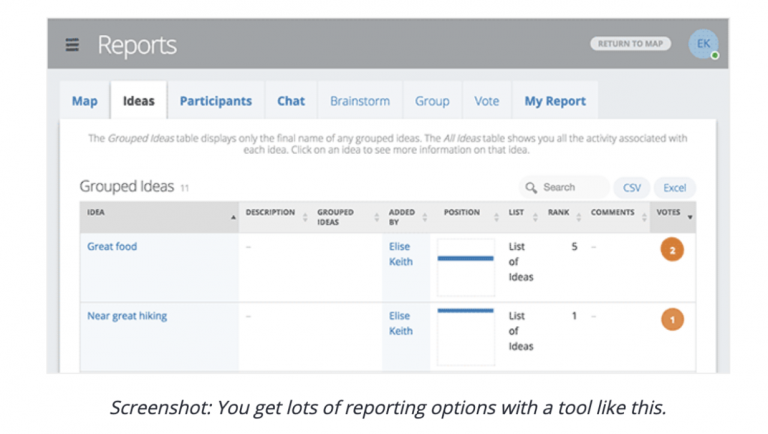 Want to try GroupMap as an online collaboration tool? 
Schedule a demo with a GroupMap team member at a day and time that suits you best or have a go of our easy to use, supported online collaboration tool for FREE for 14 days today.