See how this simple exercise had over 100 people brainstorming and voting on the best arguments. Industry professionals meet VET teachers to bring currency to the curriculum.
Ask yourself this.  Which would you rather battle?
1 horse-sized duck or 100 duck-sized horses?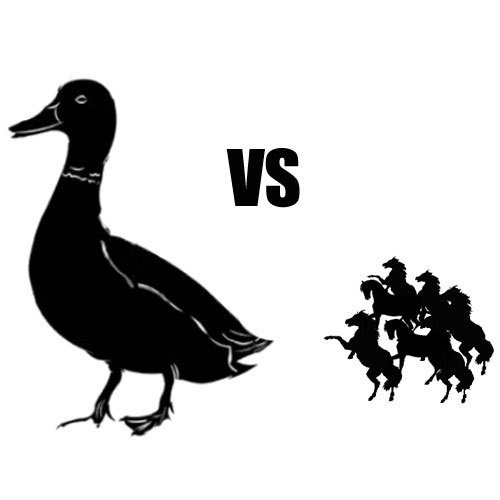 This was the question posed to attendees of the Industry Currency day where over 110 VET teachers were asked to share and debate their views using GroupMap as their audience response system. This professional development session was focused on ways to improve critical thinking skills – a key learning outcome for 21st-century learning in any curriculum.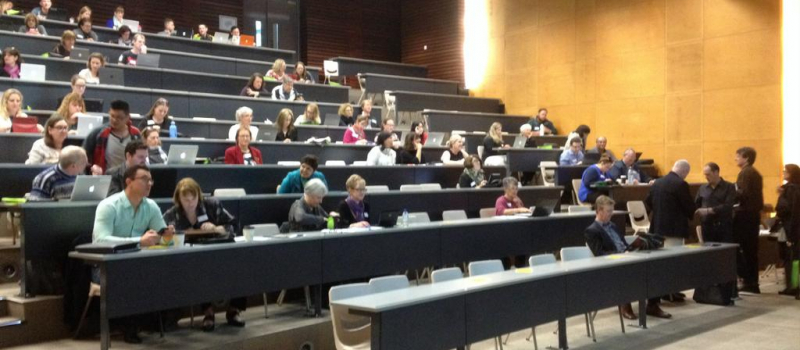 Each person was asked to pick a side initially. Working in small groups, they then added arguments to be shared more widely as part of the collaborative learning exercise. Here are some of the ideas they came up with.
With the opposing views  captured, this became the perfect fodder for a healthy debate. But we wanted to take it one step further to work out which arguments were the strongest.
Use of voting techniques to identify logical fallacies
Using the concepts of logical fallacies (flaws in logic) and the simple like/dislike buttons, people voted up the arguments that they felt best made their case.  The best and strongest arguments would then float to the top and the results shown. The goal was to focus on the strongest arguments put forward by the each side.
Running through the ideas allowed people to comment and to support and challenge what was being said by their peers. This form of collective learning certainly isn't something you could do with simple polling.
The group discussed the arguments presented and considered the impact this had on their position on the matter. Whilst a hypothetical discussion, it highlights the importance of forming a good argument free from logical flaws.
Hosted by Training Council (FAPSTC) and held at Curtin University, the Industry engagement forum provided a technology driver environment for the VET sector to interact with speakers and industry representatives. More than 40% of year 12 students undertaking a VET qualification in 2014.  The event was an outstanding success.
"Alison Sweet, event organizer from FAPSTAC said: "Teachers can gain insights to help them take industry intelligence and embed it into their classrooms, creating relevant, authentic and innovative environments."
Part of the session also included an interactive industry Q&A powered by GroupMap. "We wanted to lead by example, " said Sweet, "and make the most of collaboration tools like GroupMap. It allows audience members to ask questions to presenters as they have them, engaging those that might not be comfortable asking questions in a large group forum. The workshop organizers could see any unanswered questions posed by the group on GroupMap and could respond to them. Teachers could see group brainstorming technology in practice making it easier to implement strategies to engage students in the classroom."
Additional sessions included test running a new social media platform called FauxBook, insights into careers in business, finance, and technology from Microsoft and BankWest, and industry updates from a panel of industry speakers.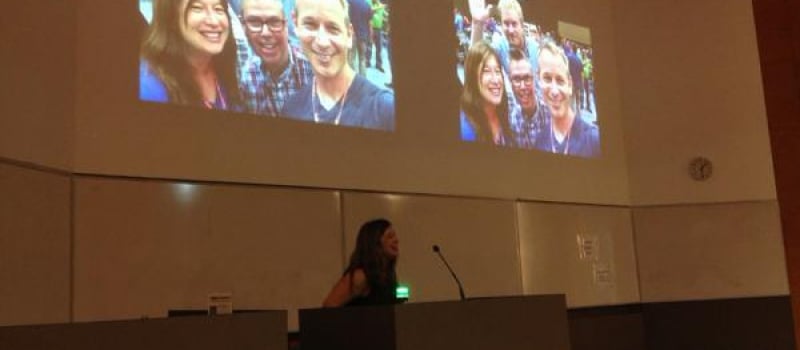 Ready to try your own critical thinking exercises?
Here are 5 tips to consider to help students become independent learners.
Set examples that do not have a straightforward answer.

These are your non-Google"able" items that challenge the student ability to examine perceptions, inferences and conclusions. "Which is better? Oranges or bananas?
Start and end with "Why".

This is a clear sign that people are engaging in thinking.  A simple technique is to ask Why 5 times so you really drill down into the basic logic.

Aren't questions great?

Learning stops at an answer and thinking starts with a question.  A Socratic style and deliberate questioning with the group will get those neurons firing.

Engage in visual thinking.

In this blog example, we used a 2 column list just to represent opposing views. Additional options such as Plus, Minus Interesting, 6 thinking hats, or a collaborative mind map provide different thinking activities. The use of space with graphic organizers helps to organize thoughts and to make it easier to see what the thinking is in the room.
Give them time to think.

Want to avoid that awkward silence when you ask a large group a question? Critical thinking exercises require a little introspection and processing time. Give people a chance to brainstorm individually first (yes, this is a feature in GroupMap).  They can then share more broadly and with confidence with the wider group.
If you would like to watch a quick critical thinking exercise in action, please watch the below video.