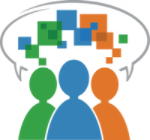 GroupMap is a real-time online brainstorming tool for
meetings
workshops
conferences
classrooms
events
.
Plan, brainstorm, discuss and decide!
You've probably encountered the usual issues of group decision-making in your meetings, workshops, or classrooms. People dominate the conversation, quiet folks never get heard, and of course all those post-it notes you have to write up. GroupMap captures individual thinking first, then reveals the group perspective, all in real-time.
GroupMap offers over 80 brainstorming templates to get your planning, discussions, workshops, and activities started quickly and effectively! Create your activities from one of our ready-to-use templates or design your own easily. From Strategy and Design Thinking to Agile Retrospectives and General Brainstorming, GroupMap means you can design meetings that suit your team's needs. Our templates include Agile Retrospectives, SWOT, Urgent Import Matrix, Perceptual Maps, Stakeholder Analysis, Risk Assessment, Mind Maps, the Business Model Canvas, and many more…
Facilitate effective discussions
GroupMap offers easy to use tools and features to encourage engaging conversations for all participants. Securely invite 2 to 2000 people, whether they are in the same room or around the world. Set a timer, bring everyone to the same step, use anonymity to promote openness and capture comments while keeping an eye on people's progress. You can even poll or survey people. These are just some of the useful tools to help you build engaging conversations each and every time.
Custom workspace
Design your activities the way you want it
Lock / unlock
Control when and how long your feedback sessions are
Brainstorm style
Capture responses in groups or individually
Anonymity
Choose privacy levels based on "Off", "Partial" or "Full" anonymity settings
Chat
Use real-time chats in your activity to communicate easily
Timer
Keep your activity on time using the timer functionality
Polling
Get feedback in one spot using the survey and polling feature
Move participants
Create breakout sessions for smaller brainstorming groups
GroupMap gives you simple but effective tools to vote, rate, score, like, dislike and sort ideas independently to remove bias and ego. Decide together on the top ideas and actions to take forward. Customise the group decision making tools you need to prioritize, decide and take action.
No more manual collation! Download your results in a single click as a PDF report, CSV or XLS to save you the time and stress.
Our reports provide you with the evidence and transparency of your group decision making process.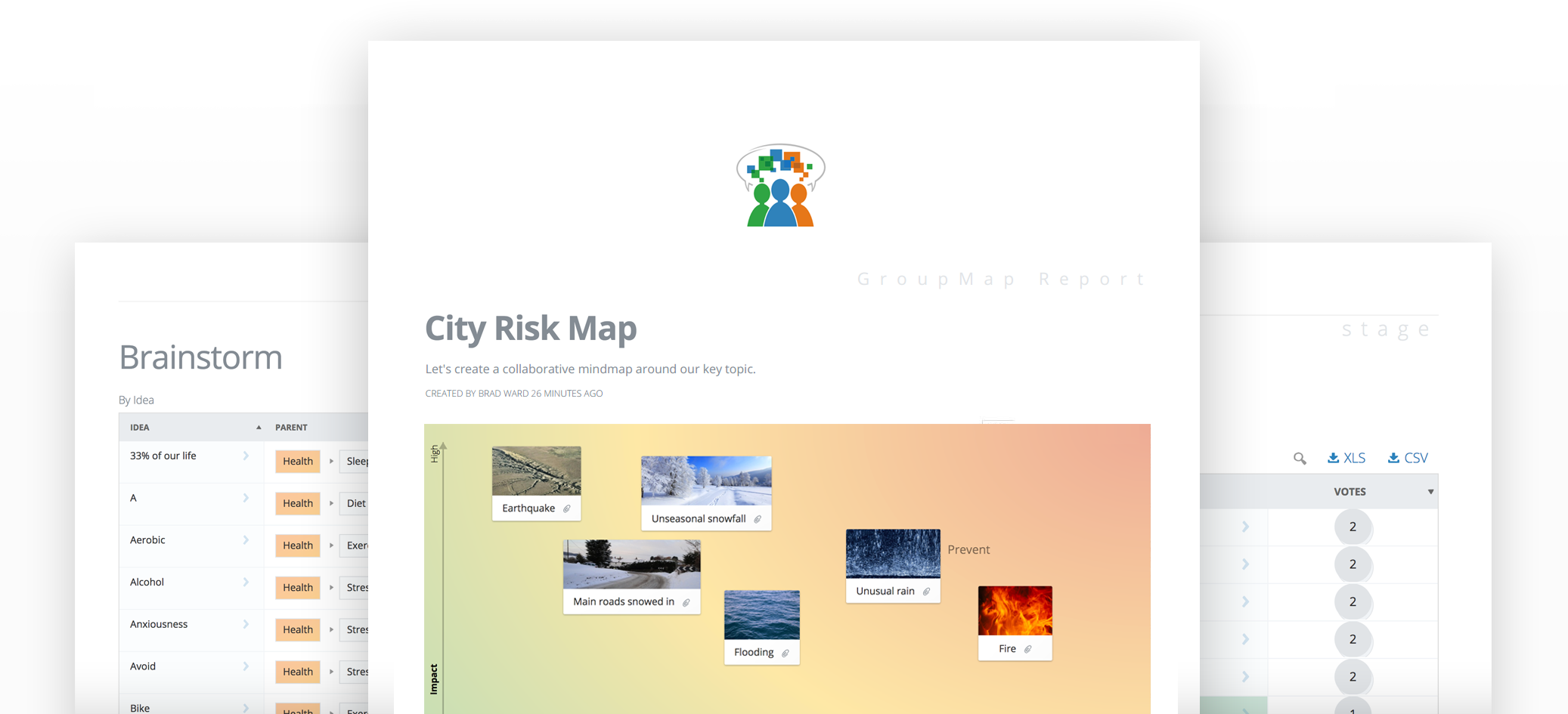 Every group using our service trusts us to keep their data to remain secure and confidential.
GroupMap has been developed and operates with the highest level of security to protect your data and privacy. Password protection, secure platform, payments, infrastructure and hosting, back ups are a given with us.
Enterprise ready
Single sign-on via SAML (eg. GSuite, OneLogin, OKTA, Azure Active Directory). Choose between hosting your GroupMap account and data in the US or the EU. Corporate branding and enterprise templates along with concierge support and training.
Security and encryption built-in
Your data is protected with 256-bit SSL encryption over the wire, AES256 encryption at rest. We utilise SOC2-certified infrastructure to provide you with the peace of mind that information you share on your GroupMap is always secure. Learn more
High availability
Run your meetings, workshops, brainstorming activities and all other online events with GroupMap as and when you need with a 99.9% uptime SLA. You can also view our status dashboard for all real time notifications and planned maintenance. View our status dashboard
Security questionnaires and DPA's
Security questionnaires and DPAs are available for all enterprise clients. Data Processing Agreements (DPAs) is a legally binding document between a processor and a controller which follows the rules set out in the GDPR – are also available for enterprise clients.
GDPR Compliance
We have implemented policies and processes to ensure that we meet our data processing obligations under GDPR. We only collect and store data for use of the service to ensure we meet our obligations under the general data processing regulations. Learn more
GroupMap… Powering collaboration and brainstorming around the world
Ease of use, and the opportunity to use [GroupMap] asynchronously over a longer period of time – so people could either contribute during a teleconference or in the week after if they couldn't make it – were benefits we all appreciated from using GroupMap for our online brainstorming.
The best feedback I heard was from a group of 35 consultants who ended up using a GroupMap Open Space as a substitute for a personal meeting during the COVID-19 pandemic. They had doubts that a virtual open space would work. In the end, they came out with better and more results than in any physical meeting before.
GroupMap literally salvaged our virtual executive global event. We would not have been able to have our workshop nor accomplished as much without this tool.
Other tools don't provide the same level of interaction as GroupMap. It has a clear and concise process, from brainstorming to rating of opinions and ideas and finally the results. This is extremely useful with my groups. This type of interaction hasn't been replicated by any of the other tools that I have used.
Because GroupMap is a more democratic method, the quieter, shy members enjoyed contributing just as freely as anyone else… We now have a way for everyone to come together and share ideas, from the CEO to the new hire...
Access GroupMap on all devices
Works on desktop, tablet, or phone in all modern web browsers.
Chrome, Firefox, Safari, Edge, and Internet Explorer 11. Nothing to download, just get started straight away!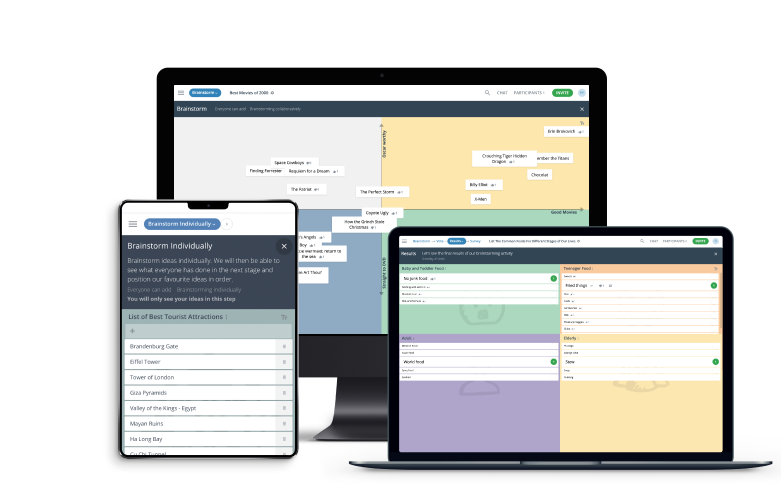 Ready to improve your group brainstorming and decision making?
Create your first map and invite people in to start sharing their thoughts.
Your free trial gives you access to all of our features, no credit card required.